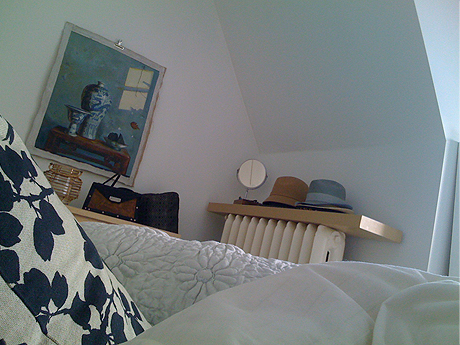 My room on the last snowy Sunday morning
I attended a great documentary during the REEL ARTIST Film Festival back in February. If anyone is a fan of the artist Sol LeWitt then I say get yourself a copy of the DVD! You can purchase the DVD "Sol LeWitt: Wall Drawings" online at the Checkerboard Film Foundation website. (FYI – My birthday is March 1, present suggestion ;) )
The documentary by Checkboard founder, Edgar B. Howard, was really fantastic. I have had a sideline interest in LeWitt's work for awhile now, but this tipped me over the top and pushed me in with the dedicated. For anyone who doesn't understand what the 20th century fuss was regarding abstract and non-representational art, this movie may convert you. LeWitt's arrival at his concepts, the progression of each of his works, and the laborious, yet meditative, effort of the execution of the Wall Drawings is transcendent.
Much of the film was centred around MASS MoCA's exhibit of LeWitt's work that was installed in situ, after his death by assistants following his instructions…more on this later as this subject is a whole other post!
But the point of this post was that I was intrigued with the director's decision to respect LeWitt's request to not be in front of the camera. Nowhere in the documentary do we see LeWitt. You feel him though, and for me, not just through showing his masterpieces, but simply and most beautifully by showing us his studio – his personal space. The camera slowly pans around the inspiring location that was LeWitt's place of work, his creative space where visions were dreamed then brought to life. There are all the relics of his everyday life as well as his career successes. The space has a patina of nostalgia with little keepsakes given to him by his children, and other odds and ends. His shoes. So wonderfully intimate. It was the perfect choice in lieu of the artist and I think it gave us more of a feeling of who LeWitt is then even having his physical presence in the film.
As a portrait artist who mainly uses photography as a medium, it is always such a challenge to capture just who your subject is in a simple, straightforward, one dimensional representation. Before I saw the documentary I was contemplating a project where I took photographs of artists' working spaces, keeping the artists out though because someone's space, the things that you find or even don't find in that space, can speak so much as to who they are.
Last snowy Sunday.
Like LeWitt, I am not a big fan of being in front of the camera and much prefer the comfort of directing from behind it, but to give my readers a glimpse as to who I am I decided on the last snowy Sunday morning of winter to snap, from my bed, my space where dreams take place. It just took me a bit of time and 40 degree recording breaking heat to get it all organized!
L.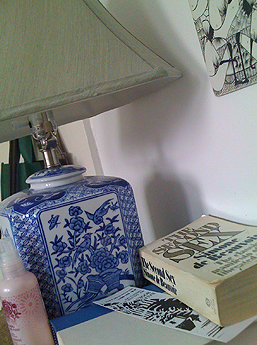 My bedside & heavy reading that encourages sleep. No offensive to Ms. Simone.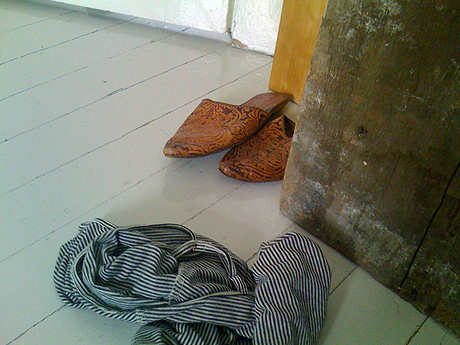 Jamais sans mes babouches…
& never without my heels either.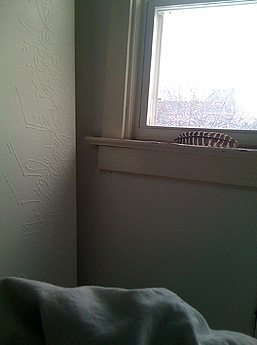 Painting by Soheila Esfahani, poetry by Rumi, feather by God.
Lord Ganesha – The Remover of All Obstacles.
My altar with gifts I find on my walks.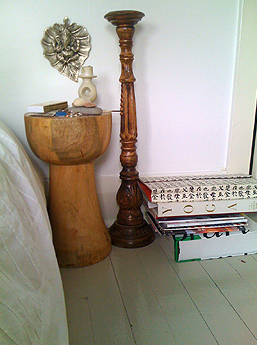 I cannot exist without a pile of books and magazines close to my bed / head.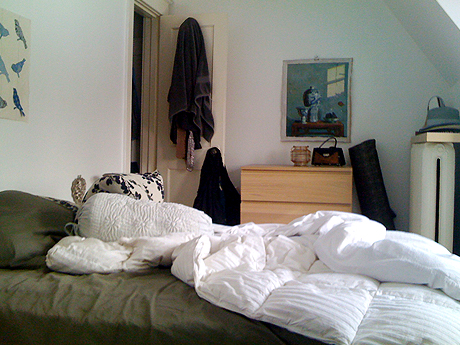 The fuller picture.