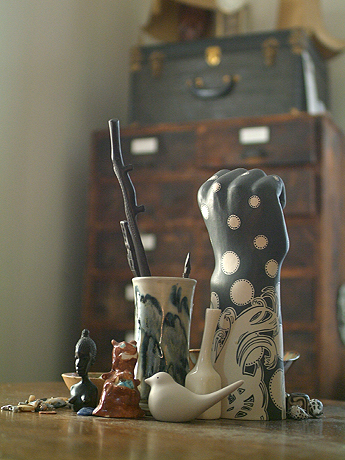 Fist by amazing ceramic artist Julie Moon.
In Toronto we have so many great artists and furniture designers. Why am I not seeing their work in everyone's homes except for the homes of other starving artists and struggling designers?
I was viewing a high end house featured on "Toronto Life's" site today and although the architectural design was interesting, the interior design was sterile and offered nothing memorable. The furnishings were predictable and looked like they could have been purchased at The Brick. The few pieces of 'art' that barely interrupted the all-white walls, looked like they might be original, but they also looked like they could be Home Sense finds as well. I have seen this a lot as I have been going to open houses in my neighbourhood – you can walk into a loft listed at $500,000 or a home at close to a million and the décor looks like the occupants are afraid of colouring outside the lines. Instead they play it safe inside the security of some outdated design cliché. Another 'Barcelona Chair' anyone?
When clients and friends have come into my homes over the years they have always displayed an interest in my choice of furnishings (random finds ranging from Habitat For Humanity Re-store to high-end antique shops) and my collection of art (art I had given to me, art I bartered for when broke, art I happily paid full price for when I had the $ so I could make a fellow artist's day). Did I ever have a plan of action or a desired aesthetic? No. I just made sure that whatever came home with me I loved. Somehow it has all worked and anything that stopped working in the current space happily found an adopted home with friends.
Friday, Saturday and Sunday (July 8-10) is the Toronto Outdoor Art Exhibit. In its 50th year, the TOAE is always a great place to find something beautiful to bring home, no matter your budget. I was an exhibitor at the show back 15 years ago (my god, has it been that long?). I have also spent a few weekends working the show alongside my clients who were exhibitors and I attended once as a reconnoiter for a gallery. No matter my reasons for being there, the thing I love most about the show is that, as an artist, it is encouraging to see people walk away with art they have purchased – FROM THE ARTIST! The voyeur in me desires to go along with a great piece, be a fly on the wall, seeing where it ends up and how it merges into the design of the home.
In celebration of TOAE's 50th year I am dedicating the rest of this week's blog entries to local artists, designers and people who aren't afraid of showing individuality in their home.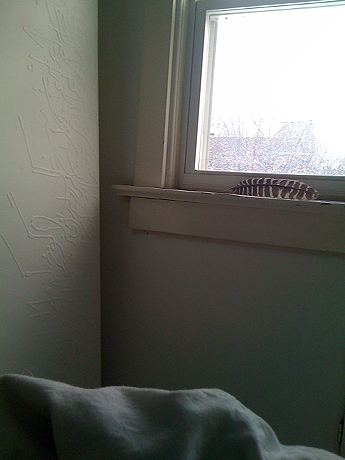 Painting by Soheila Esfahani. Soheila's work was
chosen by TOAE to be part of its exhibit of 50 artists for
TOAE's 50th.

Black and white photography of mannequins and
outstretched hand by Ahmed Sirry . Orange torso and
leg photograph by an artist I can no longer remember.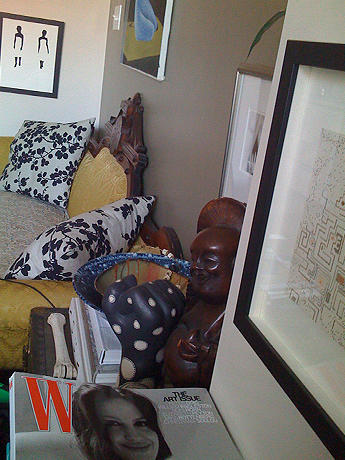 Black and White print of women walking, artist
unknown. Grabbed it the last hour of the last day and
missed getting a bus card.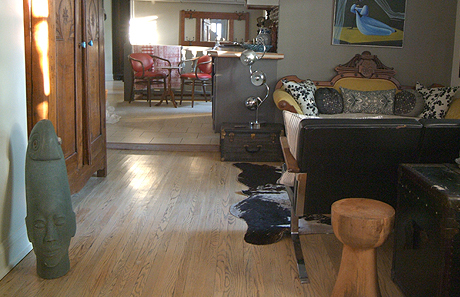 Large stone sculpture on left side by Zimbabwean sculptor, Munya Madzima.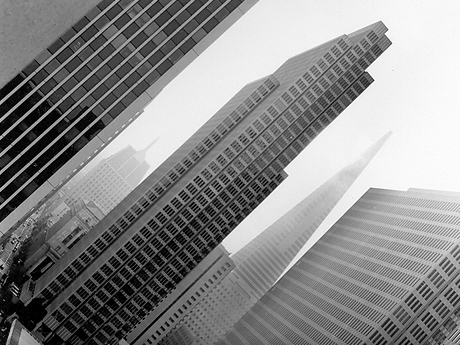 2 selections of my own work from the year I was at the TOAE.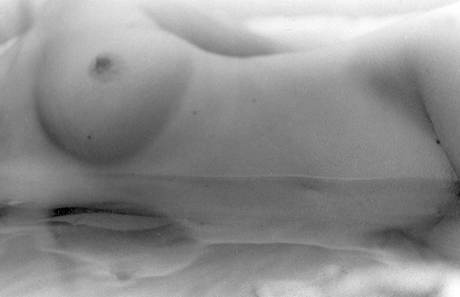 To view more of my interior design philosophy visit MY FAVOURITE THINGS.