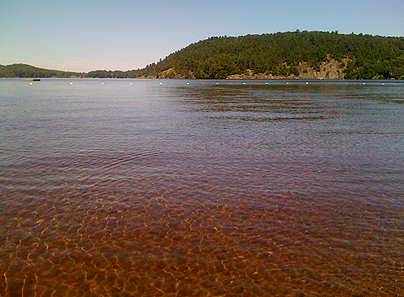 Mary Lake, Muskoka Region, Ontario
The world's running out of clean water. Unless the UN acts, the private sector will appropriate supplies and the poor will suffer…" more info
Clean water to drink, wash and swim in shouldn't be a luxury – it should be a human right – but now when I have a chance to swim in what I 'perceive' to be a clean lake it feels like a treat even though there is a lake (that is part of the largest 'fresh' water systems in the world) less than a 5 min walk from where I live.
Recent article on the problem with pollution in Lake Ontario.
Last week, up north at a cottage I was able to jump in the lake a few times a day. When the water would wrap around my hot skin to cool and refresh me it did feel luxurious because I am aware that there are less and less clean water sources where I can do this.
But was this lake as pure as it looked? One morning I came down to the beach to read then take a swim but I decided against the swim because as the waves lapped against the shore foam was collecting and being pushed towards my feet.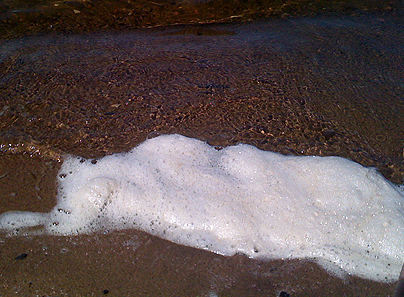 Mary Lake – possible pollution?
Why was the water foaming that morning? I remembered how many parents and kids were at the beach the previous day. Children and adults alike slathered in sunscreen, the sunscreen is full of chemicals. Sunscreen has become a necessary evil that is required to avoid skin cancer but I was concerned about what the accumulate effects would be of the breakdown of these chemicals dissolving in the water at a busy beach, in a small lake, over a summer time, season after season. Does the sunscreen affect the ecosystem?
"The reason for the coral reef pollution may well be your chemical based, non-biodegradable sunscreen. You might think that your tiny sunscreen wash-off into the ocean cannot harm marine life, but think again!" more info…
The water we drink is often tainted by Bisphenol A.
The water we wash our bodies in is full of chlorine that is used to treat water to make it 'safe' but it is now being discovered that it is dangerous to our health and the health of the ecosystems that are exposed. We absorb this all in through our skin as we stand in our showers and relax in our baths.
There are other ways that can filter and store water without the use of these chemicals. Mother Earth has been doing it all this time. Why don't we?
My niece is just beginning to take to the water. I want her to have the opportunity to look forward to her summers up at the cottage and that the lake she now feels brave enough to go into will always be safe for her to swim in.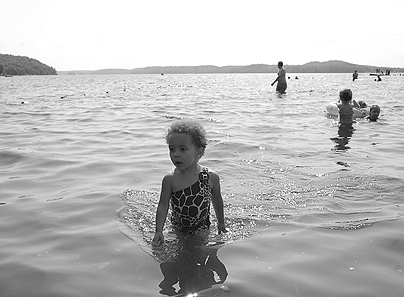 What will the condition of the lake be when my niece is my age?

RESOURCES ON WATER:
Maude Barlow's Documentary "Water on the Table"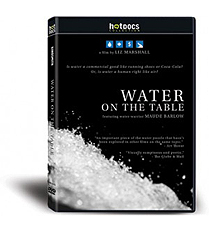 The ROM'S Current Exhibit WATER on until September 5, 2011. DON'T MISS!
FYI – Receive half price general admission on Fridays starting at 4:30 pm. On Wednesdays from 3:30 pm to 5:30 pm general admission to the ROM is free and tickets to Water: The Exhibition are only $7 Adults, Students and Seniors and $3.50 Child. Or purchase Toronto CityPASS and save 45% on admission to the ROM and four more top Toronto attractions for one low price!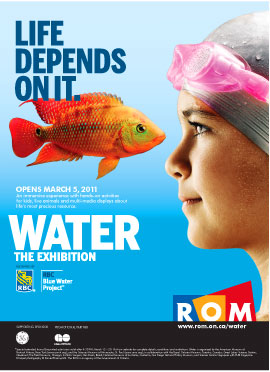 RESOURCES FOR ALTERNATIVES AND SOLUTIONS:
Water Filters for Drinking Water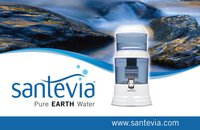 Water Filters for Showerheads
Eco-Friendly Sunscreen
More about the concerns of Sunscreen from Cocoon Apothecary.