Tom Rand's book "Kick the Fossil Fuel Habit" was in the bunch I brought up North. I felt it would be inspiring to read it surrounded by the scenery of Muskoka but instead it was frustrating because I was surrounded by cottagers who drove the 5 minute walk to the beach, mainly to avoid the uphill climb on the way back (though a lot of them looked like that walk could do them some good). Not the way to get your bottom bikini-ready! There was no recycling program on the grounds and I was told that in Huntsville, Ontario the recycling goes into the dump anyways (can anyone confirm this? it seems insane that this may be happening). Also, there was no compost or green bin system due to the bear problem. That's right. Let's blame it on the bears! So no one is smart enough to figure out how to foil a bear from getting into a bin?!
Instead I digested this book on one of our record breaking heat days here in Toronto this past weekend. I really needed to be doing work on the computer but it was brutal hot and not wanting to contribute to a black out, I turned off all things electrical and went outside to hang on the porch and breath deep under the shade of a maple tree – the most beautiful and efficient of all air conditioners.
The book was hard to digest, not because it is a difficult read. Tom does a great job of explaining a lot of dense technology to those of us who are not born with an engineer's mind. It's hard to digest because in its pages lie the painful truth. We could have a cleaner world NOW – rid of dirty, toxic fossil fuels – if governments and industry didn't operate with the same mentality as the campground my sister's cottage is located on, looking for convenient scapegoats (when there is an absence of bears to blame!). I remember a quote by David Suzuki where he said that people won't change until they see black snow. I know that he meant when the snow is falling down black from the sky but when you see it black on the sides of the roads in the winter, collecting vehicle exhaust and visibly exposing us to what we are breathing, shouldn't that be frightening enough?
For me, having worked a long time in marketing, where it is all about communicating messages and getting agendas across, I have come to realize that it is undoubtedly true that sex sells. I believe that an effective way to get people to jump on a green coloured bandwagon is to make the ride a sexy one.
Green can be Red Hot. Those close to me know that I have an earth- mother-attitude but I stand on my soapbox in heels rather than Birkenstocks. When I get down off of it, I like to show a little leg.

Vegan shoes by Olsen Haus.
EXHIBIT A – Eco-friendly cottage from the land that gave us the intensity of the Tango. Picture yourself here: warm fire (sustainable), soft rug (reclaimed), glass of Argentinean wine (organic), lover from Buenos Aires (local)…see, that's what I mean. Green is good! Mucho bueno. Just like you mother said when she was trying to negotiate with you to eat your spinach and peas.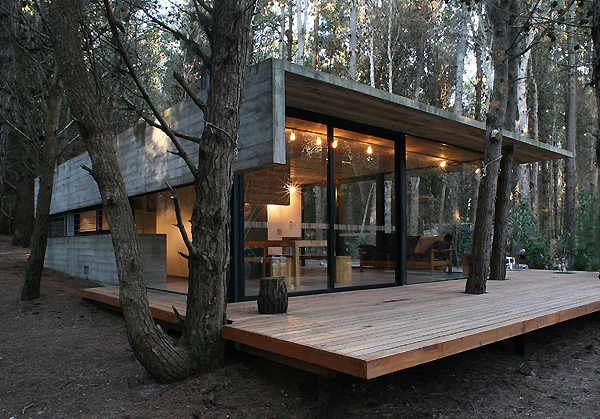 Cottage by BAK Architects, Argentina. Image from trendir.com.

EXHIBIT B – Eco-friendly bed. The company tag- "Sleep on it. Store in it." (my little addition -"Sex in it. Sex on it!") How nice would this bed be in this cottage? Built for two (or more!) Viesso's 'Buden' bed is smooth in design and fits in seamless with the cottage's aesthetic. The bed is actually two pieces of furniture in one, offering storage options contained underneath and in the headboard.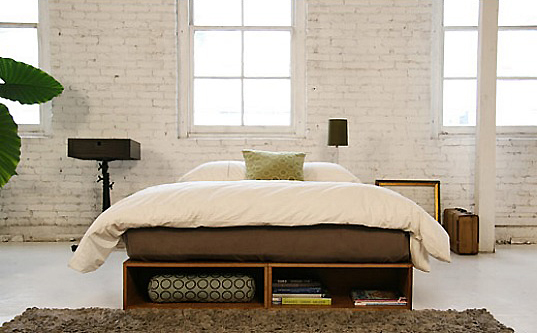 'Buden' Bed by Viesso. Image from inhabitat.com.
EXHIBIT C – Eco-friendly lingerie. One of my many business ideas (I have averaged one a week since I came out of the womb) was to design eco-friendly lingerie. Stella McCartney beat me to it. Isn't it nice to know that you can uphold a moral agenda while prancing around in your skivvies?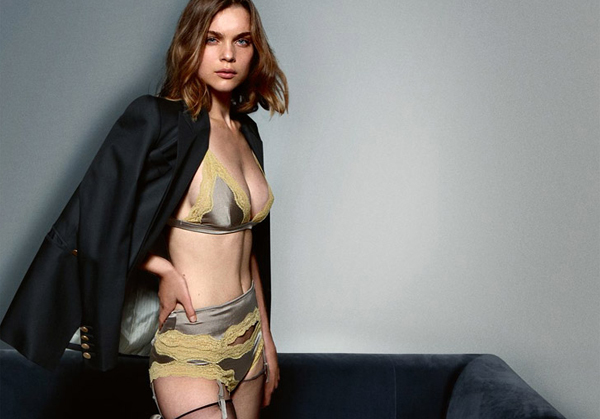 Image from ecouterre.com
It is not just when we switch something on in our home that we are using energy. All of our material goods require that same dirty fossil fuel to power the machines that produce them and the vehicles that ship them, but all of us can have our love nest built and decorated in a way that is sustainable and eco-friendly. We can make our bed and lie in it comfortably knowing that we have been mindful of each product's life cycle, understanding how that product is designed, developed, delivered and disposed  of, cradle-to-grave.
The last few pages of "Kicking the Fossil Fuel Habit" end with Tom Rand envisioning "The World in 2050" – a world where governments have long since implemented Cleantech. It's a world where transportation infrastructure is efficient, homes and office structures are retrofitted and buildings "erected after 2030 are net-zero, sucking no energy from the grid". There has been a renaissance in urban planning along with strict legislation the supports sustainability. The result – cities that would be the envy of those of us stuck now in urban and suburban centres that fray our nerves and congest our lungs. The people in Tom Rand's 2050 dream are healthy and energized.
Now that's a sexy world!
Learn more about Tom at www.tomrand.net.
Want an eco-friendly place to stay while visiting Toronto? Stay at Planet Traveler – "Canada's Greenest Hostel", an initiative of Tom's.

FYI – Great post today by EcoSalon re: the Slow Furniture Movement.
Isn't it time to take the time? Thanks to EcoSalon for another informative read!