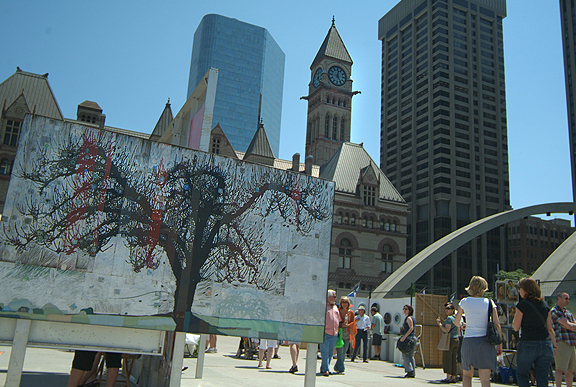 Piece by Dave Hind at the Toronto Outdoor Art Exhibit. Celebrating 50 yrs.
DAVID HIND
I have loved Dave's work for years and someday I will have a wonderfully large room as well as the $$$ to afford one of his massive pieces – like the ones of cityscapes with trees that eclipse the rest of the visual noise on the street scene (see series of tree images below). I love the small ones too but his enormous metal 'paintings' are outrageous. To fulfill my ultimate desire here, size does matter!
The large piece immediately below was a community effort. On Dave's site is another wonderful collective project (under Community Works). I enjoy the visual departure from his solo work but appreciate that the undercurrent of his aesthetic and technique root the community pieces. Always glad to see Dave at the TOAE when I get to the show!
For more on Dave Hind visit his site at: www.davehind.com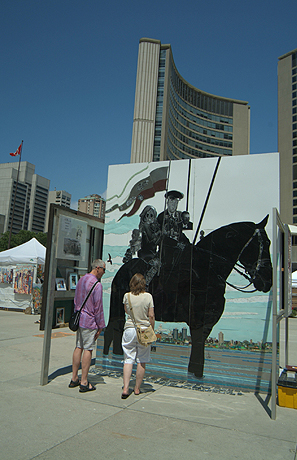 Piece by Dave Hind, community project.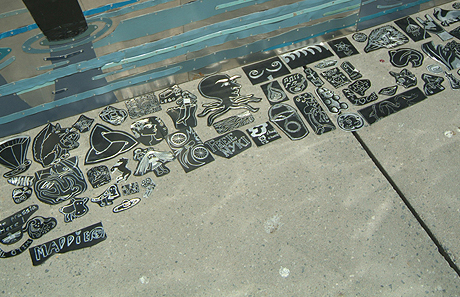 Piece by Dave Hind, details of the community project piece.

Piece by Dave Hind, tree series.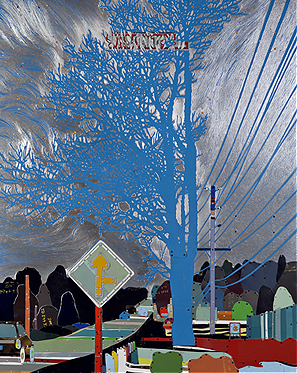 Piece by Dave Hind, tree series.

Piece by Dave Hind, tree series.
STEVEN TIPPIN
Because my mind would probably never conceive of this type of work and because I will probably never be able to technically produce the work that Steven does, I am fascinated by it and in awe. When I look at this work I feel like I hear the sound one's foot makes as it snaps thin ice over a puddle on a frosty winter day. Steven's pieces have that random organic quality of the ice patterns that as a child I believed were made by God to give delight and help us forget the cold on the walk to school. The enchantment of finding a beautiful design of ice on a puddle and the pleasant sound it makes underfoot as it breaks away is a charming memory to recall. The enchantment of discovering Steven's work is equally delightful.
For info on Steven visit his site: www.steventippin.com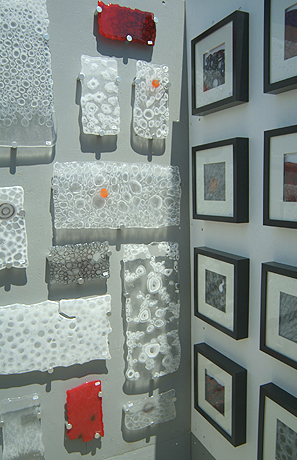 Glass pieces by Steven Tippin.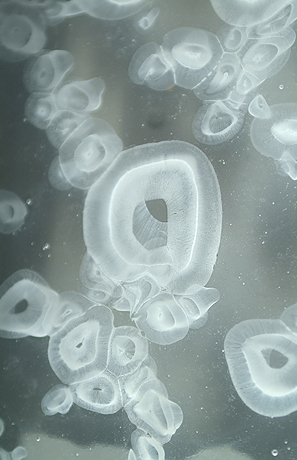 Glass piece by Steven Tippin, detail.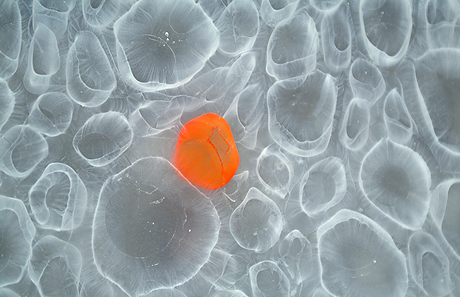 Glass pieces by Steven Tippin, detail.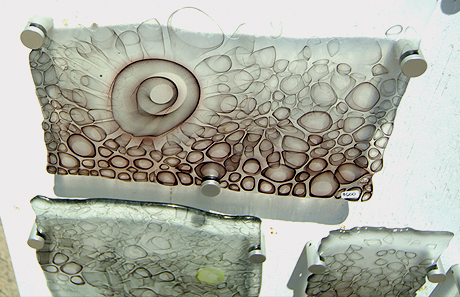 Glass pieces by Steven Tippin.
BEN STANSFIELD
My art class endeavor to do an abstract piece was horrendous. Absolutely embarrassing. No one will ever see. Maybe I even threw the piece out or it is slinking away in my portfolio case but should be tossed. I have such admiration (and jealousy) for visual artists who excel in the abstract. Where do they come up with the ideas? How do they start the piece and how does it all come together so perfectly even though there is nothing concrete to refer to? Ben does non-representational art so well that I would have bought the lot if I could. In the first piece below I love the juxtaposition between the frenetic energy of the blocks busting out and absence of anything, that clean blank space. This piece is like a chaotic but productive day leading up to a peaceful night's sleep.
Each painting feels like a landscape. Is Ben recalling an external landscape pulled from the panorama of his environment or is the view an internal one – a vision from a train of thought taking form from a contemplative horizon? Internal or external the landscapes seem strong, vibrant and fresh.
More info on Ben visit his site: www.benstansfield.blogspot.com/

Painting by Ben Stansfield.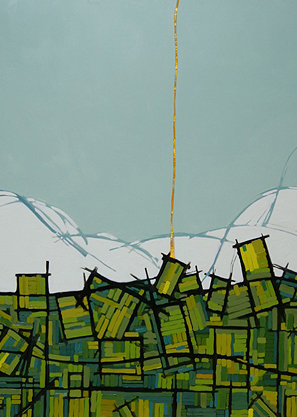 Painting by Ben Stansfield.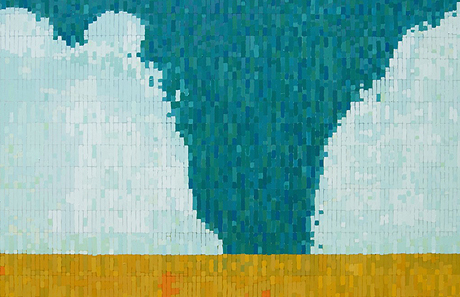 Painting by Ben Stansfield.

Painting by Ben Stansfield.
IAN McMURRICH
There is some work that when you walk by you know you like it. It is catchy, unique, fun. But the great thing about the TOAE show is that you actually have a chance to talk to the artist and find out about the process and inspiration behind the art. Ian was kind of enough to take the time to explain why his work looks the way it does and that surprisingly these images are not a portrait of one person but a composite of three layered on each other – one rendered in R, one in G, one in B. The dot portraits are 4 renderings in C-M-Y-K. Where there is overlap you get blurs and variations in colour from the blending of the inks. The pieces bridge past printing techniques with current technology.
Ian's work would translate well as an interesting family portrait– a distinctive 'legacy' piece. When I mentioned this to Ian he shared an idea he had to do such a piece with his father, brother and brother's son. The stratum of encoded genes and common facial mannerisms of the three generations shadow one after another forming a link between a family's past and its present .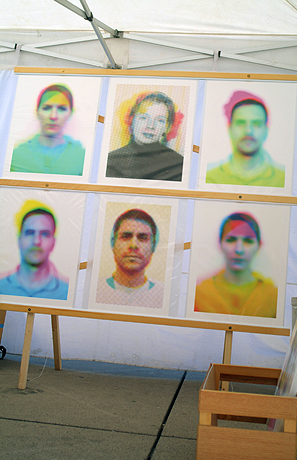 Photographs by Ian McMurrich.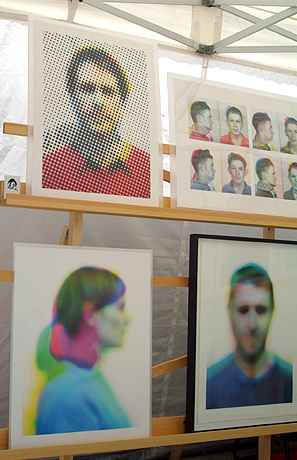 Photographs by Ian McMurrich.
STEVEN BECKLY
Steven shoots beautiful portrait work that pulls you into the images with a longing to understand the story. The self-portrait work with Steven's partner is so lovely (Titled 'Little Wolf: Let's Make Some Memories' on Steven's website). I adore what the photographs communicate about their relationship. This series makes you long for the tenderness they exhibit as well as a companion whose inside jokes and quirkiness synch with your own.
The double portrait of a woman / women eating is one that plays with the notion of identity. Steven explains that it is done in such a way that it invites the viewer to a double take or even triple take. Questions that might come about – Is this portrait of the same woman? Is this portrait taken at the same time? The two images provoke more and more questions with its playfulness. For me, I wonder if this is a portrait about similarity or about duplicity. Each time I look I find more that separates the two scenes that then seem obvious but were hidden to me before. Do we do a disservice to another human being if we don't take the time to double take, triple take, stop and pause to look and then to listen.
For info on Steven visit his site: www.stevenbeckly.com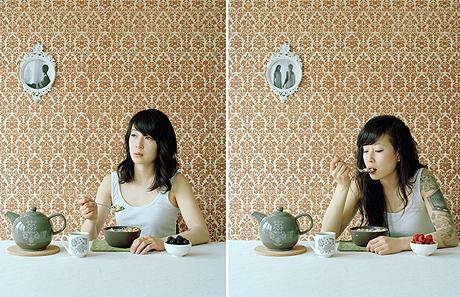 Photographs by Steven Beckly.

Photograph by Steven Beckly.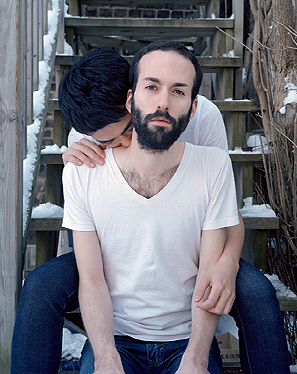 Photograph by Steven Beckly.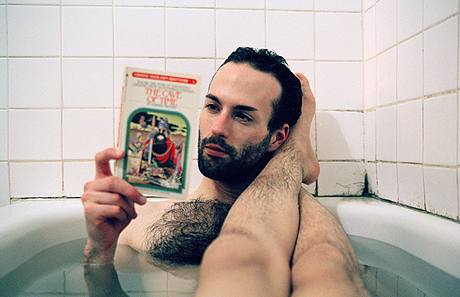 Photograph by Steven Beckly.
ANNIE TUNG
The pieces by Annie I loved the most were bizarre and baroque. Over the top with entirely no practical purpose but that is what makes them crazy good. They serve only to soothe feelings of nostalgia and delight the eye. They are must-have pieces just for the sake that they are brilliant. My favourite piece was a ring inspired by Victorian mourning jewellery – a silhouette, a snippet of hair and a lock that you can hold in your hand while you wear the ring so that you can cling tight and never let go.
The table locket opens to reveal something that looks rather naughty. A functional and historically appropriate exposure because secretly wasn't every thinking about some a just a little wicked back then even if it was behind the cover of good manners and religiosity?
Annie's own explanation:
"The idea of being blind, literally and figuratively is explored using cultural artifacts while a Victorian medical practice is re-examined in a contemporary context. Blind Date is a date between two people who have never met. In this piece, I've taken an illustration from "The History of Gynaecology " of a male doctor examining a woman, from the late 1800s. Etiquette required no eye contact during touching and often no talking was permitted. The pendant folds out into a free standing table that references a dinner date. The table top opens, to reveal that it is also a locket with an awkward, intimate moment illustration."
The plates with a flock of birds and a herd of guns aggressively positioned towards the birds are enigmatic. The title is simply "Invincible" stirring up more mystery and the desire to uncover the truth of the scene.
More info on Annie visit her site: www.shesmiledandran.com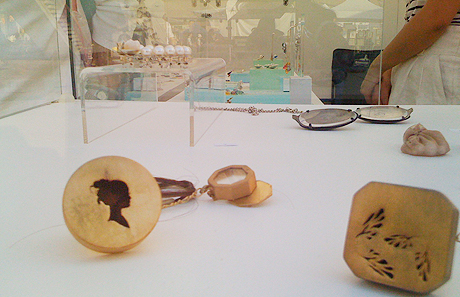 'Mourning Ring' by Annie Tung.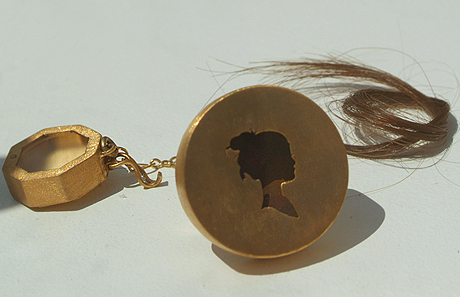 Detail of 'mourning' ring by Annie Tung.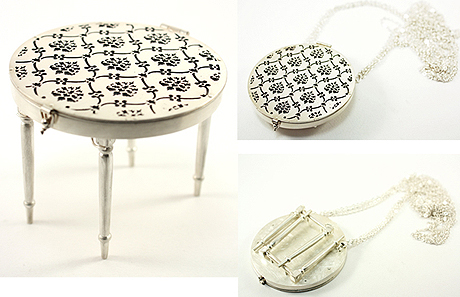 Locket by Annie Tung.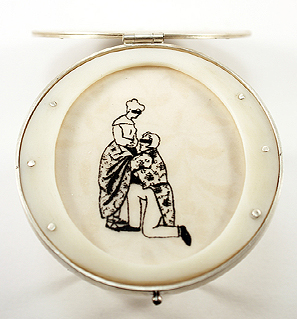 Detail of inside of locket by Annie Tung.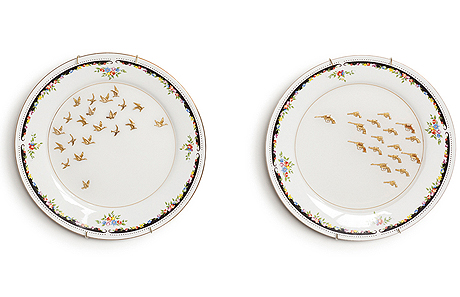 Porcelain plates by Annie Tung.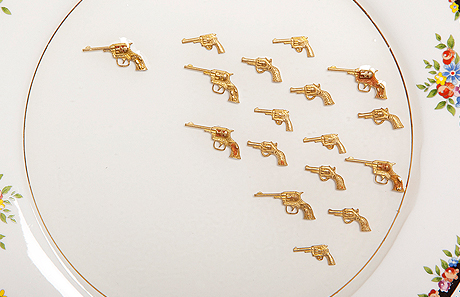 Porcelain plates by Annie Tung, detail.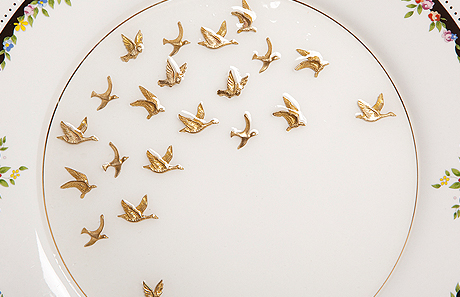 Porcelain plates by Annie Tung, detail.
NOELLE HAMLYN
Noelle's work was impossible to photograph in a way that communicated how exquisite her pieces were. They are best understood when you are intimately close, then you can see the delicacy of her materials – paper and thread. Little scraps of words stitched together to make a visual poem or perhaps a visual elegy?
Her work is much like Annie Tung's in that it feels like it is a about a memory connected to a loss. The christening dress seems like a piece tied to ritual where the act of sewing it together is a wish for a birth but it could also represent an effigy made for a lost child. The fragility of the materials speaks to the delicateness of life poised between two rites of passages – out entrance into this world and our exit out.
In her own words:
"I am intrigued by the possibilities of textiles – of textures and fibres to evoke emotion. I believe that our sense of touch is one of the most powerful and profound vehicles of human experience. Philosophically I believe touch and haptic sense can trigger emotional responses that are more profound than language. Thus, I am drawn to materials with strong tactile qualities as metaphors through which to explore concepts such as memory, relational attachments, cultural, family and personal narratives."
More info on Noelle visit her site: www.noellehamlyn.com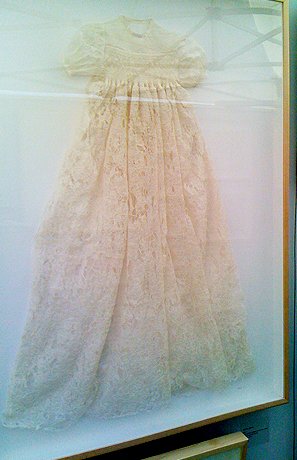 Piece by Noelle Hamlyn.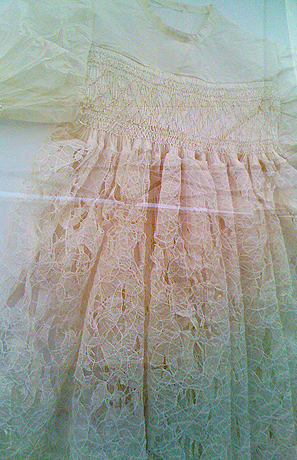 Detail of piece by Noelle Hamlyn.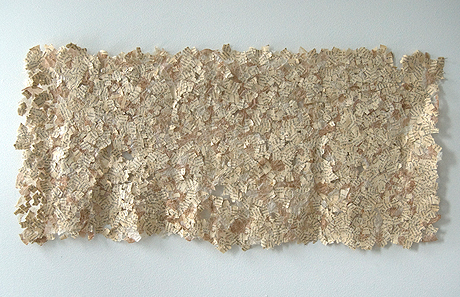 Piece by Noelle Hamlyn.
SO YEON MICHELLE KIM
So Yeon red string series is based on a Chinese traditional story that you are born with a red thread around your finger that is connected to your soulmate in this life. The unraveling of your life in your search for this individual is perhaps the trajectory that sometimes makes one seem like they are being blown to bits and pieces by unforeseen storms or lost in the woods.
She explains that the red thread in her pieces is not about going forward into the future to find this destiny but rather going back into the past to a person lost – to the memories and the point along the path where the pair got separated. In each piece there is a sense that the movement is about being pushed backwards in to time and about being bounded to something that is hard to let go of. The search gives meaning. The holding on for dear life to the string keeps one's heart racing with the fight to survive.
Regardless there is an inherent hope in So Yeon's pieces and you believe that a reuniting is not far into the future – perhaps just behind the next tree.
So Yeon's work is gorgeous, technically sophisticated and was a joy to see.
More info on So Yeon visit her site: http://soyeonhong.blogspot.com/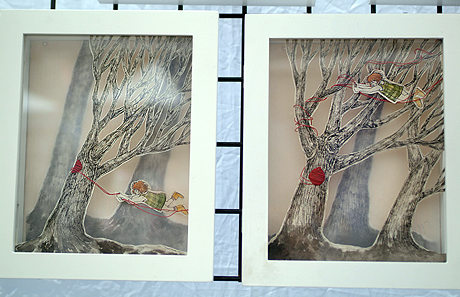 All images used with permission of the artists. For use of the images please contact the individual artist as well as Leah Snyder of The L. Project.