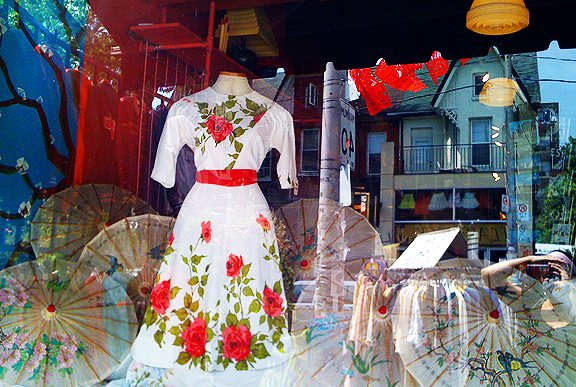 Courage My Love, Kensington Market
Creatively mute this morning. Walked to Kensington Market for some colour and found plenty.
Oh, I do wish my pro camera was not so clunky to carry around or like Samantha on "Bewitched", I had the gift of just twitching my nose and up pops that moment's necessities or I appear where I need to be. I am sure every North American child in the 70s wished for a nose like Samantha.
My iPhone camera helps in a pinch though.
The window at Courage my Love recalled for me one of my favourite movies, "In the Mood for Love". Actress Maggie Cheung makes me goose pimply in this scene. This is the closest I am going to get to Hong Kong at the start of the 60s in this moment. Again, if I only had Samantha's gift!
If you are ever feeling creatively mute this movie will give voice to inspiration. The combo of director Wong Kar-wai and cinematographer Chris Doyle's work on this movie is too beautiful for words.