Mother and child in front of a Franz Kline painting at the Art Gallery of Ontario's "Abstract Expressionist New York: Masterpieces from the Museum of Modern Art" Show, 2011.
"I paint not the things I see but the feelings they arouse in me."—Franz Kline
I would say, that of the artists at the Art Gallery of Ontario's "AB EX NYC" show Franz Kline is my favourite. Robert Motherwell is next in line with Clyfford Still following so closely behind that he is biting at Motherwell's heels. I would have loved to have seen more Motherwell (his works using red!) as part of the exhibition but for any of you that agree with me, the AGO has a continuing exhibit of Motherwell's drawings showing until December 11. (Painting on Paper: The Drawings of Robert Motherwell more info here)
So considering that Kline is my favourite artist, it does not surprise me that it was one of his paintings that became the muse for my best snap of the show. With popular shows like Mad Men referencing Mark Rothko in a Season Two episode as well as the fact that Jackson Pollock has been a household name my entire lifetime, it is easy to forget how insanely confusing Abstract Expressionism was when it was seeping up from the streets of NYC in the decade after The Second World War. The traffic of ticket holders, as well as the amount of kids with parents encouraging them to engage with the works, shows how far Abstract Expressionism has come. It is now sealed solidly into our global visual lexicon. It is always great to see children viewing art of any kind, but the above image of a mother and daughter sharing a moment contemplating the uncomplicated beauty that is Kline, was lovely.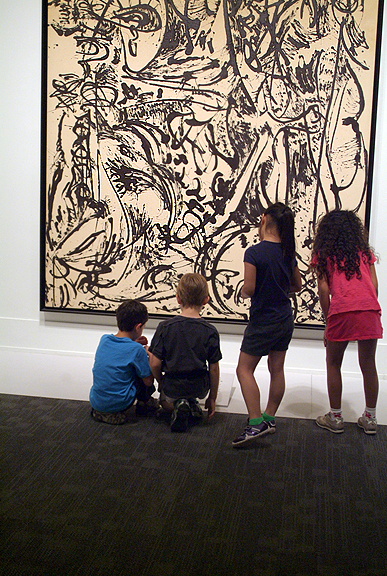 Children figuring out a Jackson Pollock painting at the Art Gallery of Ontario's "Abstract Expressionist New York" Show, 2011.
Lee Krasner (Jackson Pollock's wife, an incredible talent in her own right) has been on my periphery interest (just barely) but that has to change! Definitely one of the highlights of the painting portion of this show was Krasner's "Gaea". Stunning and vibrant, full of pleasure, it had the effective of pulling a lot of people into its aura.

Lee Krasner's "Gaea" painting at the Art Gallery of Ontario's " Abstract Expressionist New York" Show, 2011.
Another highlight was the inclusion of photographers that were part of the AB EX scene (featuring Aaron Siskind, Robert Frank, Harry Callahan and Rudy Burckhardt)
"Black and white are the colours of photography. To me they symbolize the alternatives of hope and despair to which mankind is forever subjected." —Robert Frank
You can see how the photographers and painters played off each others work as references, each adding to the explosion that would become Abstract Expressionism with the mastery of their own craft.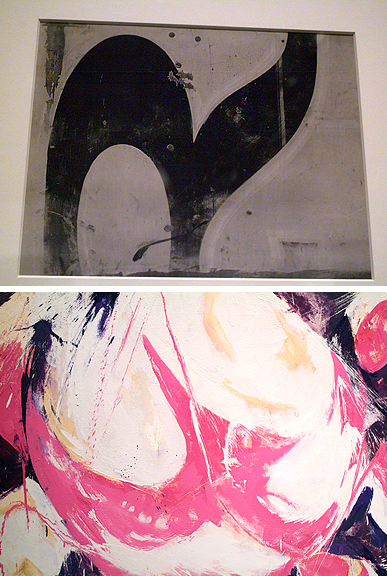 Photography – Aaron Siskin. Painting – Lee Krasner's "Gaea".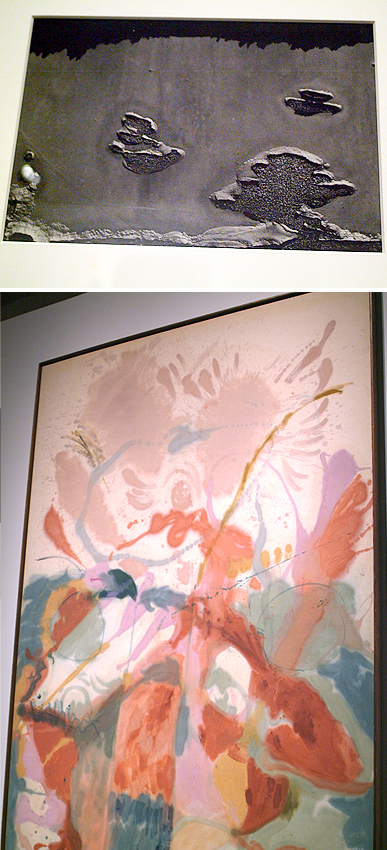 Photography – Aaron Siskin. Painting – Helen Frankenthaler's "Jacob's Ladder".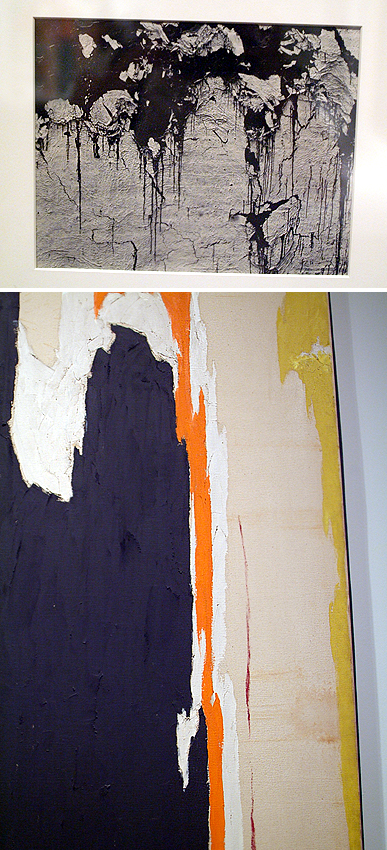 Photography – Harry Callahan. Painting – Clyfford Still's "Untitled, 1951–T, No. 3″.
My biggest protest with the show was only that I wanted to see more. More Motherwell, more Bourgeois, more Krasner, Kline, de Kooning, etc, etc, etc…!


Isamu Noguchi's sculpture "My Pacific" with works by his contemporaries, like Louise Bourgeois's "Sleeping Figure", pictured behind.
For the AGO's "AB EX" Show info PDF click here.
(NOTE: The AGO's "AB EX" Show was "foto-friendly" and visitors were encouraged to snap away (sans flash) so no images were hurt in the pursuit to get my winning shot ;) )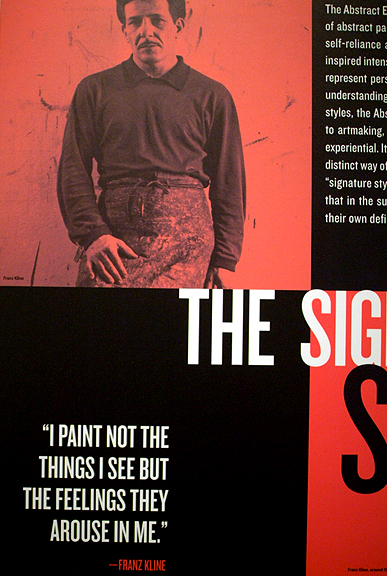 "I PAINT NOT THE THINGS I SEE BUT THE FEELINGS THEY AROUSE IN ME" ~ Franz Kline

"The Abstract Expressionists each believed abstract art was a powerful way to communicate personal identity, emotional truth and profound human values."