"The Institute for Contemporary Culture is the ROM's window on contemporary society – presenting exhibitions and special events that stimulate dialogue on important cultural, social and political issues around the world."
My first experience with the Institute of Contemporary Culture at the ROM was quite fantastic.
On a frozen February night a friend and I entered the top of the Chin Crystal to be me met with free standing structures shooting up like icebergs to meet the jutted angles of the ceiling.
Across the white washed walls was the work of Romanian artist Dan Perjovshci. Dan's medium is black magic marker and with one in hand, his art tumbles out with unbelievable immediacy. The exhibit was grand and fun, political but not without wit and appropriately in time with Toronto at that moment – all of which is the hallmark of Dan's work. Bonus: the artist was in-the-house and it was a great early B-day prezzie do have him mark up my exhibit promocard with the tool of his trade. A little serendipitous magic that topped off the night. I took it as a sign that I should keep moving forward in the direction I was looking to take my career – documenting inter-cultural dialogues in the Arts.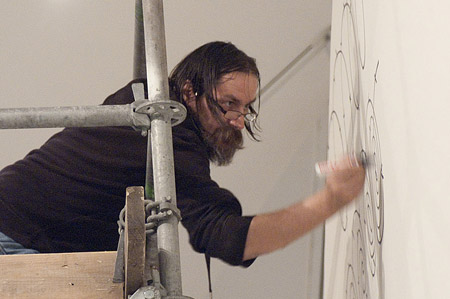 Dan Perjovshci at the ROM. Image via http://blog.rom.on.ca.
Interestingly, on the date I decided to make the leap and transition my career to Toronto, a really exciting exhibit opened, "El Anatsui: When I Last Wrote to You About Africa", corresponding with La Nuit Blanche 2010 on October 2.
But it wasn't just the incredible retrospective of internationally acclaimed West African artist El Anatsui that had me jazzed. It was the wonderful programming that ICC had put together to offer context and background to El Anatsui's work. I was able to take advantage of some of the great events such as the Eva Holtby Lecture on Contemporary Culture with Dr. Henry Louise Gates Jr.
I also attended the screening of director Susan Vogel's documentary of El Anatsui "Fold Crumple Crush: The Art of El Anatsui" with a Q & A with the director that followed. The documentary included footage of how Anatsui assembles his 'textiles' made out of reclaimed lids of liquor bottles, one of which welcomes ROM visitors to the Shreyas and Mina Ajmera Gallery of Africa, Americas, and Asia Pacific.
Another informative night was "El Anatsui and Contemporary African Art" with University of Toronto's Elizabeth Harney as well as Princeton's  Chika Okeke-Agulu, renowned expert on African Art of the late twentieth century into the 21st century.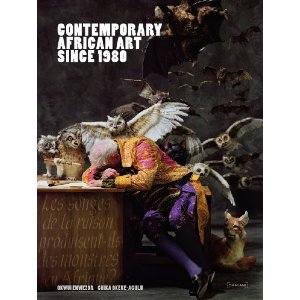 "Contemporary African Art Since 1980″ by Chika Okeke-Agulu and Okwui Enwezor. Check out my Amazon Store under "Visual Arts"  for more details. 
Although pocket book problems (what can I say, I work in the arts!) stopped me from attending the documentary, "Suffering and Smiling" on father/son Afro-beat musical sensations Fela and Femi Kuti, I was fortunate to be able to view El Anatsui's retrospective on several occasions, one of which included a tour given by Toronto photographer Michael Chambers. Biggest regret – missing Kenneth Montague's (Wedge Curatorial) tour as I appreciate his perspective.
And I appreciate ICC for giving these tours as today I attended my third one. The tour was part of the ICC's "Fresh Perspective Tours" series. The tours run on Sunday afternoons (usually 1pm) and are free with the price of admission. With the current exhibit, "Bollywood Cinema Showcards: Indian Film Art from the 1950s to the 1980s", the tours I came for showcased two very distinctive professional and personal perspectives. In June, Canadian artist and filmmaker Srinivas Krishna gave a tour that corresponded with his exhibit, "My Name is Raj", at TIFF Bell Lightbox  that was in conjunction with LUMINATO & TIFF's "Raj Kapoor and the Golden Age of Indian Film" Festival. Srinivas offered details of his childhood biography and how the Bollywood Film Industry began to inform the visuals of his film, on both a conscious and subconscious level.
"Award-winning filmmaker and artist Srinivas Krishna launched his career in 1993 with the international hit Masala, establishing him as "one of the most talented and provocative directors working in North America today," according to The Critical Guide to Contemporary Directors published by Wallflower Press, London. Masala premiered at the Toronto and Sundance Film Festivals, garnered rave reviews and was sold worldwide. In 2002 the British Film Institute voted it among the Top Ten South Asian Diaspora Films of the 20th century." (sited from Divanifilms.com) Read more
Today's tour was by Juno nominated musician  Sundar Viswanathan.
"Sundar Viswanathan is a jazz woodwind player, composer, vocalist and international touring artist with extensive performance and teaching experience in the US and Canada." (Sited from www.yorku.ca) Read more
Whereas Srinivas gave a more visual perspective on the Bollywood Film Industry, Sundar's tour was all about the audio. Packed full of historical info, Sundar laid out the subcontinental context that led to Bollywood musicals flourishing.
Starting with classical Vedic ragas, adding in Bengali folk songs, stirring in the influence of Parsi dramas that came with an immigrating Zoroastrian population, Sundar then went on to speak of how America sent over some of their musical geniuses in the 40s. Because of that, into the pot went a hint of American jazz and in the 70s, a dash of disco. He demonstrated how Bollywood films scores are a simmering masala and provided some musical samples to illustrate his points.
And as terrific as it is that ICC is committed to providing amazing programming to flesh out and inform their exhibits, what I love the most is the local spin the "Fresh Perspective Tours" puts on the exhibits by drawing upon the great cultural talent we have right here in Toronto!
See Sundar Viswanathan perform October 7 at the Old Mill as part of their jazz evenings at The Old Mill

More on local musical talent visit Sundar's website at www.sundarmusic.com

More on local film and installation talent visit Srinivas' website at www.divanifilms.com

More on local photographic talent visit Michael Chamber's website at www.michaelchambersphotography.com

More on local curatorial talent visit Kenneth Montague's website at www.wedgecuratorialprojects.org
"BOLLYWOOD CINEMA SHOWCARDS" ends this coming Sunday, October 2nd so get on out!!
FYI – The ROM offers FREE Admission, yes, FREE, on Wednesday from 3:30-5:30 pm and Fridays after 4pm the entrance fee is ½ off. Perfect for Date Night! (even if you bring the kids).
The last ICC Event in conjunction with "Bollywood Cinema Showcards" is the screening of the documentary "The Sound of Mumbai: A Musical" this Tuesday, September 27, 7pm at the Signy and Cléophée Eaton Theatre. More info here.
BONUS: See the ROM's Curator of South Asian Art and Culture, Deepali Dewan's curatorial talent with the show "Embellished Reality: Indian Painted Photographs" (on until March 12, 2012 at the H.H. Levy Gallery, Level 1)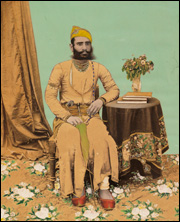 "Maharaja Fateh Singh", Chaaganlal Gaur, Opaque watercolour on paper, Rajasthan, India. Image via www.rom.on.ca.