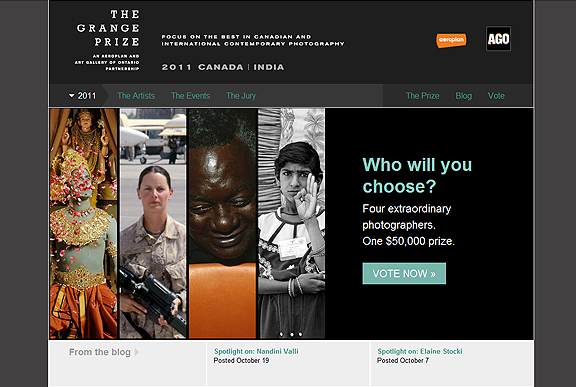 On Wednesday, I finally made it out to the last of the Grange Prize Gallery Talks. Srimoyee Mitra, Curator of Contemporary Art at the Art Gallery of Windsor (formerly Programming Co-ordinator at SAVAC) was speaking about each of the photographers (Gauri Gill, Elaine Stocki, Althea Thauberger and Nandini Valli) and giving her insight as a curator whose focus is cross-cultural dialogues within the visual arts.
"The Grange Prize was launched in 2008 with a mandate to recognize the best in Canadian and international contemporary photography. A unique partnership between the Art Gallery of Ontario and Aeroplan, The Grange Prize aims to engage the public in a vital discourse about the power and prevalence of photography in our world today through public exhibitions, voting and online dialogue.
Each year, The Grange Prize works with an international partner country to form a nominating jury of curatorial and scholarly experts, who select a shortlist comprising four photographers – two from Canada and two from the partner country. The 2011 partner country is India." (sited from www.thegrangeprize.com )
I cast my vote. It was tough. I listened online, after Srimoyee's talk, to each artist's video to see if it would confirm the initial decision I made while at the AGO, physically in front of the work. After seeing all four videos though, I felt conflicted because I wanted to give each of the women a vote – they were all incredibility talented, uniquely engaging and visually challenging.
The final winner will receive a $50,000 prize. The three other photographers will receive $5000 each. As well as the prize money:
"the four shortlisted artists also participate in a residency-exchange sponsored by the prize – the Canadian artists travel to the partner country, and the international artists travel to Canada – with the goal of creating new work supported by the Grange Prize." (sited from www.thegrangeprize.com )
Voting closes today but if you don't get a chance to vote The Grange Prize Exhibit is on until November 27 so there is still an opportunity to go and experience the wonderful work of these four talented women.

GAURI GILL

ELAINE STOCKI

ALTHEA THAUBERGER

NANDINI VALLI

Gauri Gill's website
Nandini Valli's website