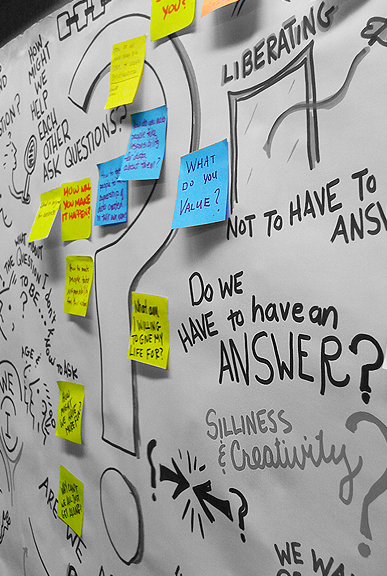 Design with Dialogue, September 2011 at OCAD, Toronto.
Last month I stumbled across a get together advertised on the ever so helpful Eventbrite.
Design with Dialogue is a group that meets the second Wednesday of each month at OCAD.
Design with Dialogue (DwD) is a Toronto-based community of practice that develops leadership and facility in co-creating positive social and organizational change. [They] explore the use of facilitated conversations and social experiences to drive meaningful action.
Their website – www.designwithdialogue.com  – is quite fantastic! Along with the archives of many past DwD events, the site offers downloadable PDFs that help one question how to best question!
And that was how the new DwD fall season opened – questioning questions. Our prep work for the session was to bring a burning question in our life with us to place on the table. We were to offer our question up for discussion not so that we could find our answer by the time we left but so that we could begin to understand the function that a question can play in our lives. Does the timing that a question comes to us in our life's journey change the impact? Does the way in which we ask the question or the audience to whom we ask the question change its importance, even its meaning?
Here are some little philosophical nuggets and food for thought I gathered during the time we explored the theme of the evening:
The question you start with may not be the right one to ask.
We go around looking for answers when we have yet to find the questions.
What questions can you NOT ask yourself?
What questions do you hate being asked?
A question can establish a hierarchy of power.
Questions can be statements of class, culture and economic status.
Questions can be a strategy to deflect having to answer the question!
A question can be a way to expose and challenge, interrogate and shame. A question can also be a way of demonstrating empathy. By asking questions we can start to establish whether or not we are really listening to each other and if we aren't how do we get onto that path of understanding? Questions can be explorative and playful. A question can be a way to flirt as well as a way to hurt.
In the end we all left with many more questions than the one we came in with but the process of play to make the point about questions was a not only a fun way to spend an evening but for those of us that are "professional question askers" it reiterated the point that sometimes in order to best take our vocations seriously we need to go back into the sandbox and have fun just sifting in the dirt for awhile. That's when we find the gold.