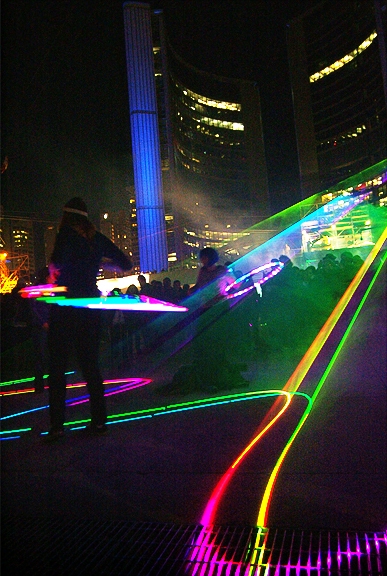 Flashing lights. Scotiabank's Nuit Blanche 2011 at Toronto City Hall.
Here's the money shot from Nuit Blanche 2011 although a friend's digital instamatic was so confused by the chaos of the lights and smoke and pitch darkness that the series of images he snapped were otherworldly and perfect! A little jealous, especially since the big pro camera and lens I walked 15 km west-east-south-north Toronto with strapped to my back, the batteries froze up solid right after this shot and I had to be alright watching an itsy-bitsy light-as-a-feather camera snag the shots I was hoping to get.
Toronto City Hall was pulling me back to my rave days – glo sticks and teenagers. And glow would be the theme de la nuit as everywhere we turned there was some spectrum of artificial light configuring into rainbows and radiance emerging from the dark of the night. A little different from last year where my time was spent inside the warmth of galleries along Queen West and The Distillery. A more sophisticated crowd but perhaps not as playful!
And with that I share with you the song that is the appropriate accompaniment for the night – both the music (retro Brit pop beat intro) and the visuals (colours of suckers and lick-a-sticks).

The spirit of the night captured in the abstract.
"I TURN THE MUSIC UP, I GOT MY RECORDS ON I SHUT THE WORLD OUTSIDE UNTIL THE LIGHTS COME ON…"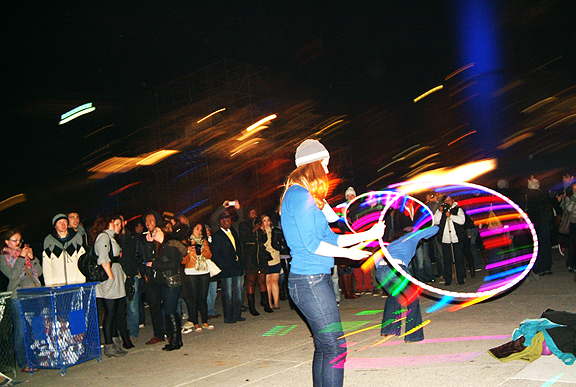 "…AND ALL THE KIDS THEY DANCE, ALL THE KIDS ALL NIGHT."
Hula Hoopers at Toronto City Hall.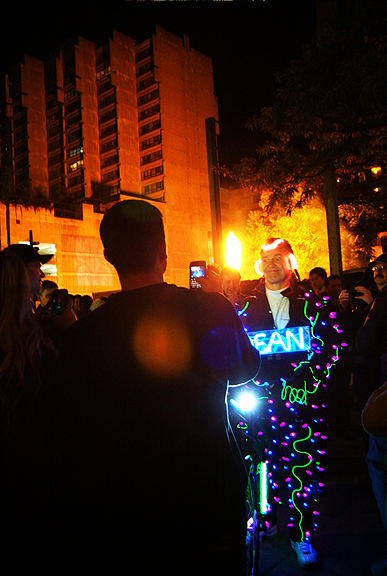 day-glo "DEAN" posing for snaps.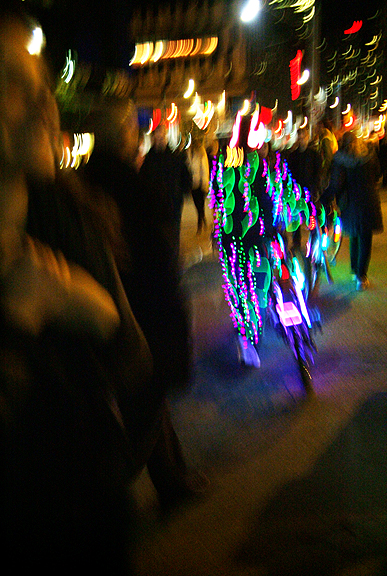 day-glo "DEAN" trying to speed away from the Nuit Blanche paparazzi…