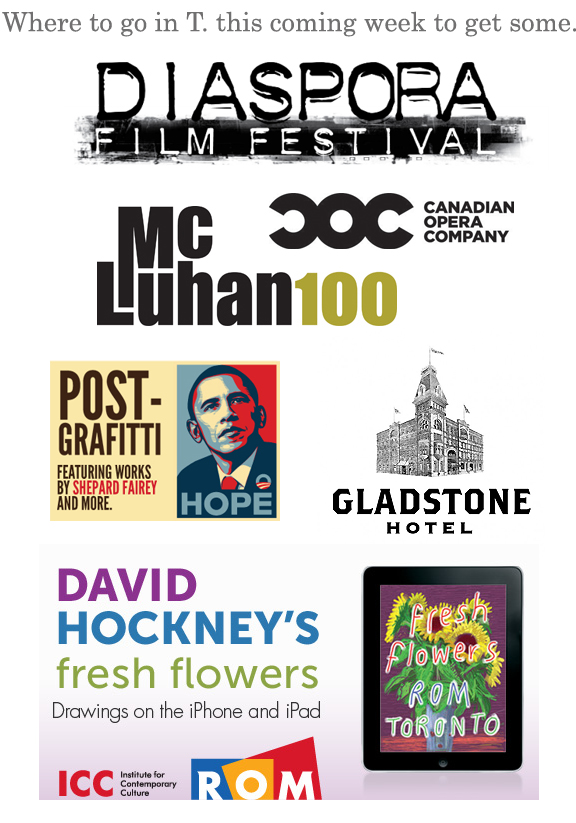 Diaspora Film Festival starts this week with an interesting selection of films and plenty of FREE screenings and talks. Some of the Themes include: Can Muslims & Jews Ever by Friends (Again)?, Spotlight on Muslim and Arab Women's stories and Children of Violence. Runs Nov 1 – 6. Screenings at Innis Town Hall and the Carlton Cinema.
Continuing on with their FREE concert series the Canadian Opera Company is hosting 3 events this week – Chamber Music Series, Jazz Series and Dance Series at the Four Seasons Centre for Performing Arts on 145 Queen St.
We love our Marshall! Events for the "Medium is the Message" Man are occurring all over the city as Toronto celebrates 100 years of McLuhan and his ideas that promoted a paradigm shift. For the full list of conference (-then now next-) and event info visit the official website of the McLuhan 100 celebrations.
And included in the McLuhan lovefest The Gladstone has what looks to be a great exhibit that includes one of my favourite contemporary artists, Shep Fairey in the show – Post Grafitti.
"This exhibition examines a collection of artworks that engage a populist language of iconography that play with our collective memory and reflect on ideas of globalization, war, consumerism and a desire for hope in the Global Village.
The ROM's Institute for Contemporary Culture continues with engaging programming surrounding their latest exhibit – David Hockney's Fresh Flowers. For the month of November, every Friday at 7 pm
"Toronto-based digital media artists will be showcasing their work. Within the gallery space of David Hockney's iPod and iPad works, the artists will demonstrate how and why they use technology in their artistic process. Included with museum admission."
FYI – the ROM has ½ Price Admission on Fridays.
See you out there!
L.