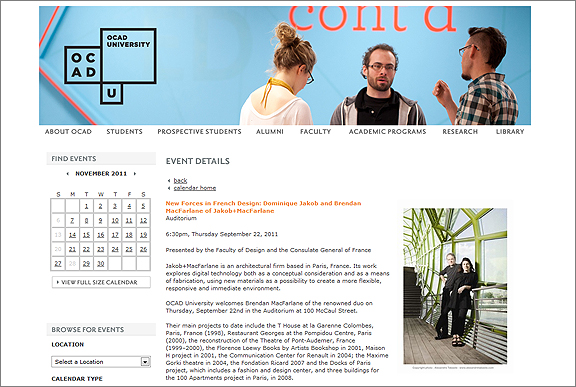 This is my second post on a great lecture series OCAD is offering in partnership with the Consulate General of France, Institut français and Azure Magazine.
As a designer, my head is constantly preoccupied (even in slumber) with finding solutions as to how to make the end user's experience more enriched. Because I design within virtual spaces I don't get a chance to think too often about the strategies involved in designing in 3-D. Regardless, the initial inspiration and ongoing process that architects employ to reach their end result is captivating to me.
I could have listened to Brendan MacFarlane of Parisian architectural firm Jakob + MacFarlane long past the last wrap up question. I geek out and move to the edge of my seat anytime an architect (or designer, artist, producer, engineer, scientist) says these words – "the constraints of the project were this therefore the solution had to be that" and they point towards their power point presentation and an image of their pièce de résistance. The real charm and challenge of any project are the obstacles that can present insurmountable barriers. But it is these barriers that push the players to storm the barricades and innovate so as to overcome.
That's the alchemy. That is where the magic moment occurs.
An architectural firm based in Paris, France, Jakob + MacFarlane's "work explores digital technology both as a conceptual consideration and as a means of fabrication, using new materials as a possibility to create a more flexible, responsive and immediate environment." (sited from www.ocad.ca )
RESTAURANT GEORGES (Centre Georges Pompidou)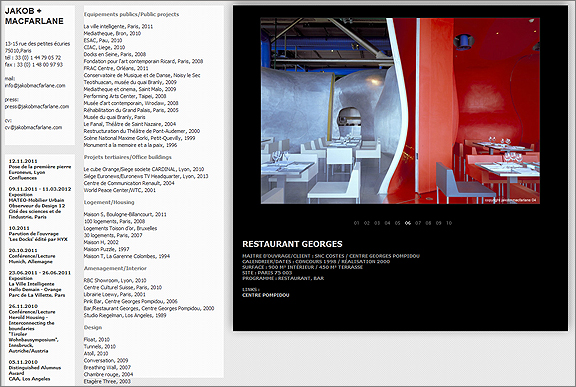 |
Brendan began by describing their project Restaurant Georges inside the Centre Pompidou in Paris. The Pompidou is an iconographic building, as prior to its completion in 1977 buildings like the Pompidou didn't exist. At the time, this type of structure was probably like seeing a woman out and about in her lingerie. Aesthetically, people were not use to such nakedness. Richard Rogers' proposal for the Pompidou was to bare the mechanical systems to the street and expose the hardwiring and tubing to the public.

Le Centre Pompidou, Paris. Series of images from flickr (James Stringer)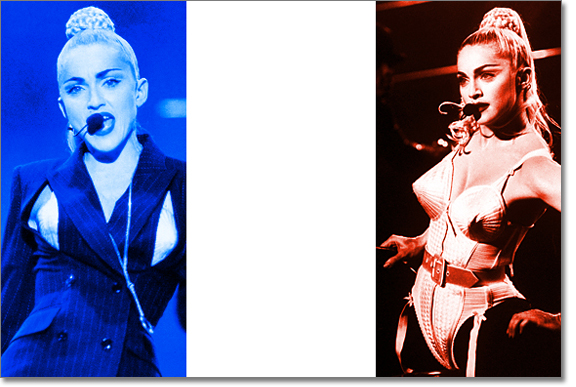 Deconstructed architecture by Richard Rogers, 1977. Deconstructed fashion by Jean-Paul Gaultier following 2 decades later.
My born-in-the-70s-generation and the generations that have followed are quite comfortable with these architecturally deconstructed PoMo places. They are playful and anti-establishment, which is the draw for those of us spoon fed architectural ennui in the suburbs but I cannot imagine they are easy to retro-fit and renovate. Because of the iconoclastic nature of the Pompidou and its construction, with Restaurant Georges, Jakob + MacFarlane only had the option of changing the floors. That is it. That's all. The solution? Creating autonomous structures, or 'volumes' as Brendan referred to them. Recognized for their riffing on solutions from other industries, Jakob + MacFarlane used boat builders and their expertise to create these volumes made out of aluminum. Wiring and piping was pulled into the structures from the original exposed systems dropping from the ceiling. Furniture was kept to a limited height of 70 cm so that . Furniture was kept to a limited height of 70 cm so that "each spectator feels part of a much bigger event" and the eye is not broken by the rising and falling of different furniture heights creating a "sea of furniture" when one looks out over the view.
The effect is sophisticated but not without incorporating a sense of playfulness that is inherent to the Pompidou.

Restaurant Georges by Jakob + MacFarlane at the Centre Pompidou. Series of images from flickr (Claudine)
LIBRARIE LOEWY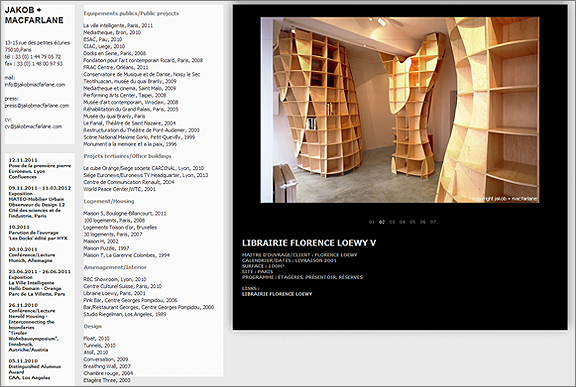 The Librarie Loewy / Florence Loewy Books is a beautiful store that specializes in books by artists and with this project Jakob + MacFarlane delivered to their client a space that is more than just a bookstore. It is a tribute in three dimensions to their client's passion for books.
With Le Librarie Loewy in Paris this idea of "intervention" into a space without puncturing the structural legacy of the building is again, as in Restaurant Georges, put to the test. Le Librarie Loewy is housed in an 18th century structure and the results of Jakob + MacFarlane's dramatic renovation of the space while still keeping the architectural heritage intact is fabulous.

Librarie Loewy by Jakob + MacFarlane, Paris. Series of images from flickr (eggshellliving2)
The bookshelves become whimsical dividers of the interior as well as the presentation area for the books. The shelves wrap round like cocoons and inside the presentation area is a place for product storage. The shelf/storage units push form and go beyond one simple function. They are beautiful and sculptural and they enhance the space.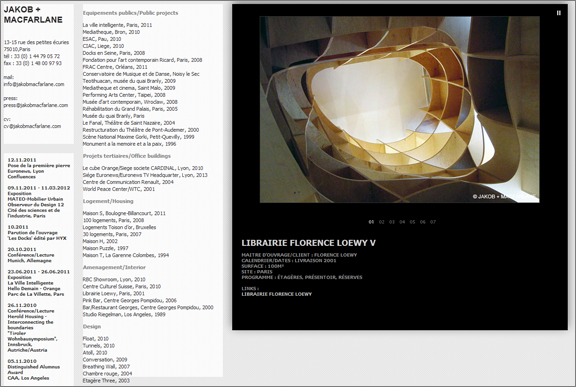 100 LOGEMENT SOCIAL HOUSING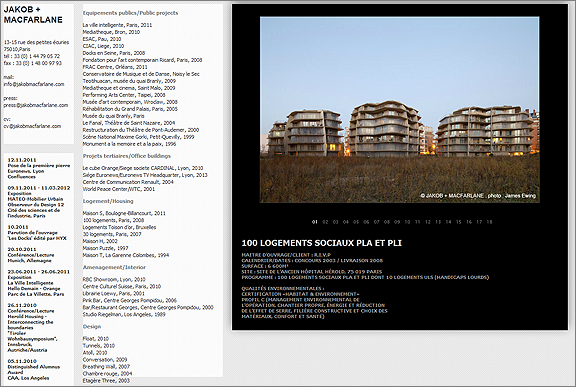 Brendan shares that him and his partner, Dominique Jakob, realized that the innovations discovered while designing the shelving structures for the Florence Loewy project "had urban possibilities". The discoveries made were streamed into a social housing project, 100 Logements. The residential complex was one of the first sustainable housing projects in France.
Along with structural innovation and sustainable design, another goal of this project was to breakdown barriers between cultures. France has had issues with the situation of ethnic pluralism. Paris, with the tension left over from riots of 2005, struggles with answer as to how to handle the multiplicity of voices of its inhabitants. This is where Brendan really snapped me to attention as when I was seriously considering a Masters in Urban Planning my thesis would have been to explore just this, comparing social housing projects in Paris, London, Toronto and Cape Town. (Perhaps I should come revisit this. Photographic essay to be placed in the project pipeline?!)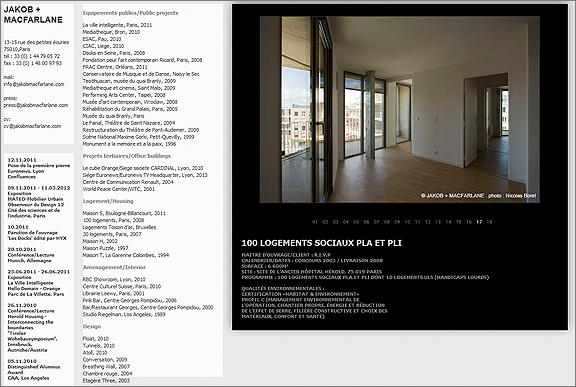 The final result looks lovely and humane which cannot always be said of social housing.

100 Logement by Jakob + MacFarlane, Paris. Series of images from flickr (maos)
LE CUBE ORANGE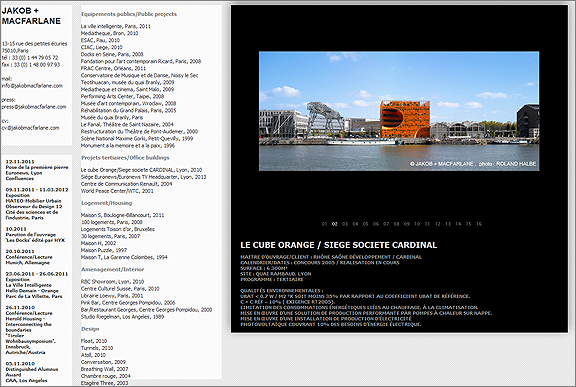 Moving away from Paris, another project that proves yet again that Jakob + MacFarlane are not only working in the future with regards to structure and material innovation but also with regards to aesthetics is Le Cube Orange in Lyon. Le Cube Orange is a building not without controversy, much like the Pompidou decades prior.

Le Cube Orange by Jakob + MacFarlane, Lyon. Image from flickr (thierry386)

Le Cube Orange by Jakob + MacFarlane, Lyon.  Series of images from flickr (paspog)
My feelings on this building are mixed because the colour is such a commitment. Anyone who knows me knows I am more of an earth girl when it comes to palettes although I do own a terrific dress in tangerine by Canadian designer Lida Baday and it is one of my favourites. Despite my conflicting thoughts on the colour I do find the building fantastic and iconographic without doubt! It's like avant-garde couture – urbane and complex. But the clothing and woman wearing it draws you in. How can you not want to explore?!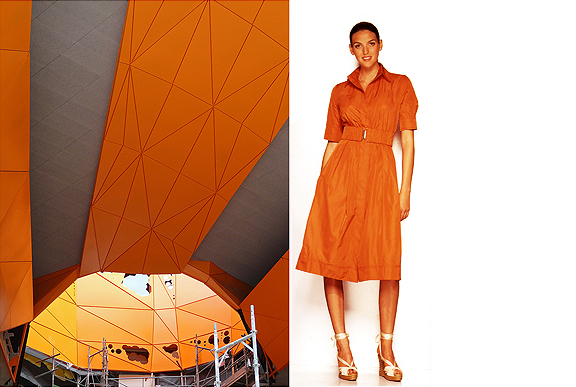 Dress by Lida Baday. Le Cube Orange by Jakob + MacFarlane. Image from flickr (urb_mtl). Tangerines. Image from flickr (jillOW).
But as futuristic as Le Cube Orange looks it is not without a dialogue with what was there before and here, as in all the projects discussed, the legacy of the buildings beyond Le Cube are held in esteem. As well, nature is a participant and the building is designed to direct one's gaze to the beautiful view extending beyond Lyon into the countryside across the river.


Le Cube Orange by Jakob + MacFarlane. Image from flickr (ar3ku).
LA VILLE INTELLIGENTE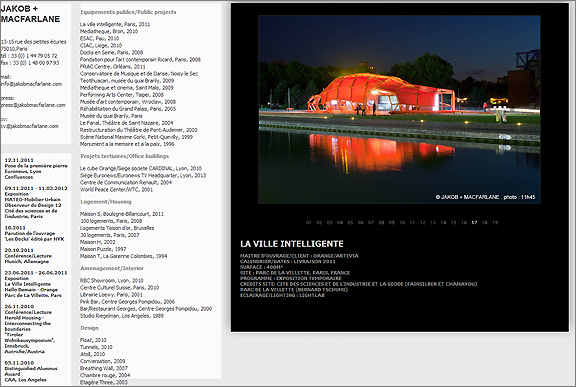 A smaller commission but equal in visual impact is La Ville Intelligente. The structure was commissioned by European telecommunications company, Orange.
"This multiple-entry open structure…depicts a futuristic and technologically advanced urban Paris welcoming people from all directions (hence the structure has many entry points) and functioning as a complete entity comprising of an expansive network. La Ville Intelligente actually visualizes urban Paris as having turned into a futuristic metropolis, wherein people are simultaneously entering new, exiting spaces to experience a huge flow (to and from) of energies . The main system of future Paris is well-connected with arteries forming the new urban network, peripheries and streets places to rediscover a new urban map." (sited from www.designbuzz.com, article by Babita Sajnani. Read more here.)
For this project, Brendan explains how they worked with the circus industry to find the best way to create a free-standing environment that could be assembled like a big-top tent and that would be transportable allowing for a nomadic structure.

View more amazing photographs of this project on Design Boom.
Here once more is the repeating Jakob + MacFarlane conceptual motif of utilizing non-traditional sources to inform their construction methodology and materials.
Built in Bulgaria and assembled in France the tent was erected in 4 days. This same type of modular construct and technology is now being used in the FRAC Centre.
FRAC CENTRE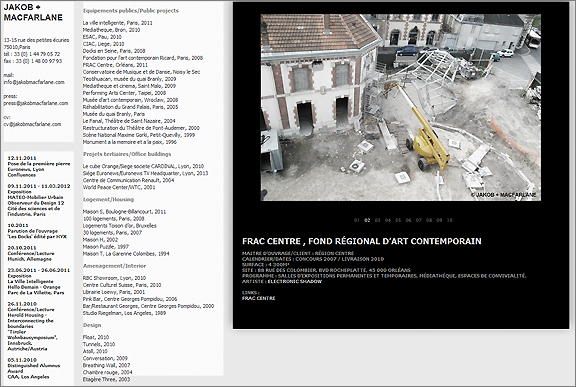 An ambitious project, the FRAC Centre in Orleans is opening up to the public their extensive collection of art related to architecture and Jakob + MacFarlane are the selected talent to complete the new facility.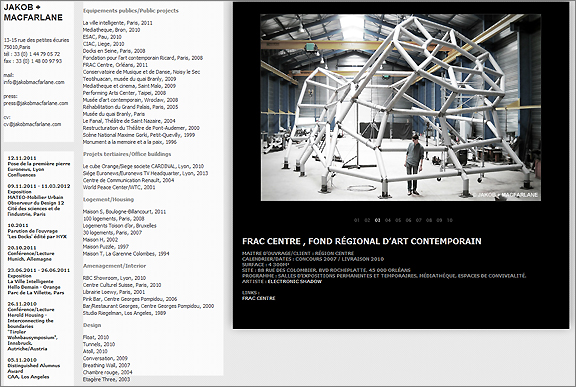 **Check out the animation on the Jakob + MacFarlane website of the merging of the classic lines of the existing building with the soon to be completed additions. (Under navigation – Equipements publics/Public projects, FRAC Centre, Orleans 2011 link, image 10)
DOCKS EN SEINE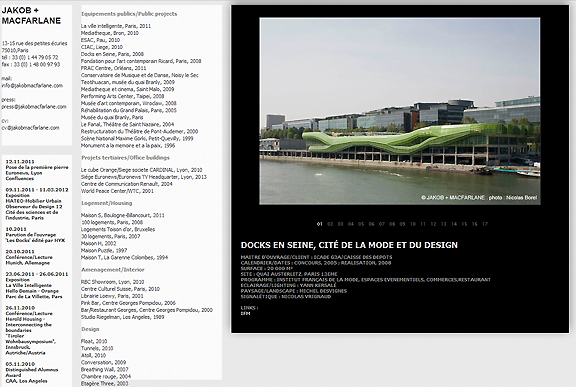 As the ground zero for fashion explosions Paris has been slower moving when it comes to design outside of couture. Historically, in France the two worlds of fashion and design have remained separate but this has changed with the Docks En Seine project.  Cité de la Mode et du Design / The City of Fashion and Design houses both disciplines. Here "the design and fashion world come together to create synergies."
Originally a storage facility, this building was innovative when it was first built in 1907. Made of reinforced concrete, it was a new type of building construction that changed the world.
With the Docks en Seine Project there was the choice to either destroy the building or clean it up and rework it. Thankfully the latter option was chosen.

Docks en Seine by Jakob + MacFarlane. Image from flickr (jeemer01)

Docks en Seine by Jakob + MacFarlane. Image from flickr (True_Scale)
Brendan describes how the "idea [was] to create a second skin, enveloping it with a new piece of clothing".  Wanting to "create volume and not puncture the building" the new material now "crawls up, around and over." The casing floats out and hovers above the water.
It was imperative that the final design selected was in visual conversation with the river, the existing boardwalk, and industrial buildings.

Docks en Seine by Jakob + MacFarlane. Image from flickr (chenevier)
As I listened to Brendan discuss the work of the Jakob + MacFarlane firm it was clear that practical functionality was the underpinning but with the final design this theme of "skins" that drape the structures or sheaths that intervene delicately within a space create interiors and exteriors that are thrilling to look at. I am sure they are just as thrilling to walk through and experience. The work of Jakob + MacFarlane is dramatic and intelligent, the qualities we associate with the French –mais oui?!

Dock en Seine by Jakob + MacFarlane. Image from flickr (JP2H). Dress by Jean Paul Gaultier.
The last of the series New Forces in French Design: Didier Fiuza Faustino is Wednesday, November 23 at OCADU. These lectures are open to the public so if you are interested in design and architecture don't miss!
INSPIRED & WANT MORE?
"New Forces in French Design Pt 1: Cédric Morisset."