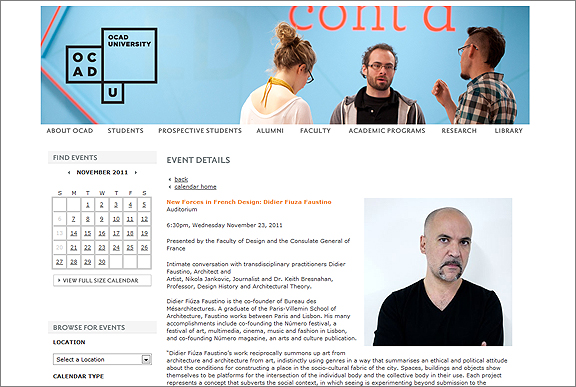 Didier Fiuza Faustino: Bodies, Restrictions and Moves.
Another great lecture! Unfortunately the final one. I am very disappointed this series has come to its end. I learned so much, was engaged by each speaker and would have loved to sit in on many more. Thanks to Ontario College of Art and Design (OCAD U), Claire Le Masne the Cultural Attaché of Consulate General of France, Institut français and Azure Magazine for making this series possible.
For those not in the know here is a big FYI – OCAD U often has programming that is open to the public. The lectures are on design, architecture, science, art, and activism – a wide range. I have attended many this past year and have walked away from each feeling a little wiser! And they are free so really there is no excuse not to come and get educated on something brilliant by industry innovators.
Last Wednesday's French talent was architect / designer / artist Didier Fiuza Fastino.

Didier Faustino's architecture firm Bureau de Mésarchitecture.
Didier's firm, if one is to speak to the critics of his ethos of architecture, is aptly labeled Mésarchitecture. Mésarchitecture is defined by Didier as "an unexpected and usually undesirable event" but when I witnessed the slides of his work undesirable was not the adjective that came to mind. Confrontational and challenging yes, but aesthetically the effect was more than desirable. True to the "unexpected" part of the definition, Didier's work is strikingly beautiful in such a way that is unusual and unpredicted.
SUSPENSION OF TIME: is a luxury few of us have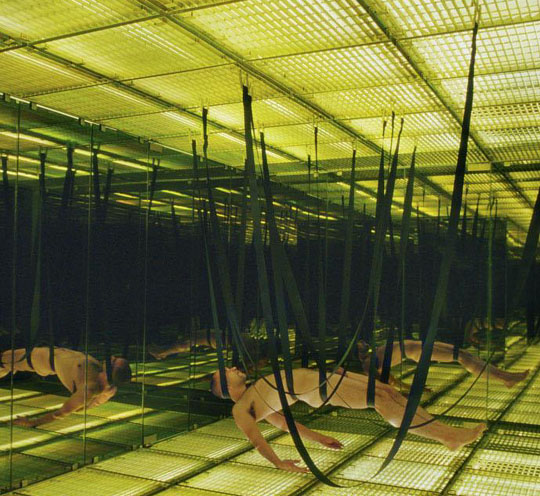 Residence in Beijing by Didier Faustino.
One of the first projects of Didier's that took my breath away was a home built for a client in Beijing. Desiring Didier to create a luxurious residence, the client was eventually sold on Didier's idea that the greatest luxury that anyone can have is time to spare. And a room dedicated to the suspension of time where one could lose track of it was a powerful symbol of affluence. With the green light from his client, Didier designed a room devoted to nothing but doing nothing.
It is functionless and strictly about form. Exquisite escapism. Hanging leather ribbons swoop down from the ceiling where a body can be draped over and suspended as though weightless. Diffused light pours down from above and percolates up from below. Walls made of mirrors echo the sentiment of doing nothing over and over again…and over again. One solitary body multiplies into a population of reflections.
Outside of the leather strips the only other 'furnishings' are silk pillows embroidered with pure gold threads. The colour of imperial red, the pillows stop in a soft pile that bleeds out onto the hard metal mesh floor.
This room is suspended in the centre of the residence and beyond the walls of the time wasting capsule is a series of spaces.  Surrounding the box are areas dedicated to the daily ritual tasks devoted to hygiene, food prep and sleep. Here the space is partitioned by glass walls that allow natural light to flood through the environment. The furniture is primitive, wooden and rough – strictly about function. The effect of the two polarized spaces encapsulated in one apartment is aesthetically brilliant.

STAIRWAY TO HEAVEN: closed to anyone who wants to enter


Stairway to Heaven by Didier Faustino.
A project that took place on the opposite side of society's tracks involved a commission that would be constructed as urban art at a social housing project in Portugal. Stairway to Heaven was inspired by a stairwell in the social housing complex. In that area, privacy and security in the collective space is problematic because of the encounters that can occur.
In his design for Stairway to Heaven, Didier says that he wanted to "create a collective space for private use."  The stairway leads to an enclosed cage with a basketball hoop and room for only one person. Originally conceived as a functional staircase that members of the community could ascend, enter into the space, look out over their complex and shoots some hoops if they so desired, the structure now remains closed to entry. "A symbol of failure of culture in society" he states but not without first winning him the contemporary art prize "Prémio da Tabaqueira", in Lisbon, Portugal, 2001.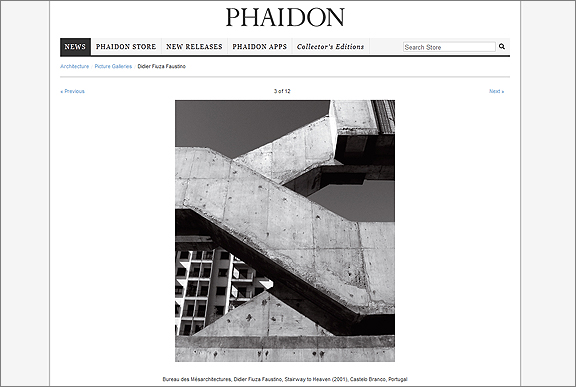 Stairway to Heaven by Didier Faustino.
THE SKY IS THE LIMIT: but on land you cannot cross the border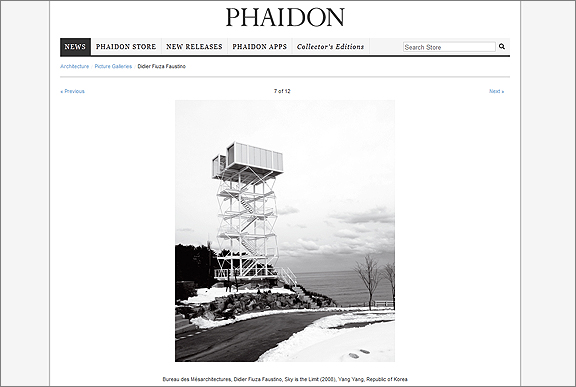 Sky is the Limit by Didier Faustino.
A commission from a client in South Korea produced, of all things, a tea house in a tower. The tea house is "projected in a state of weightlessness, over the troubled horizon. The building's body is nothing more than a fragile skeleton. Its thin arachnoid structure sets under tension a vertical void. A bicephalous head over this fleshless body is composed of two entities. Two captive voids of strictly similar dimensions provide two opposing experiences."
Made of shipping containers as the framework for the rooms, one is open to the sky, the other enclosed with the warmth of wood as its encasing. A comment made (in architectural form) on the relations between North and South Korea, Sky is the Limit is situated on the border and looks out over both territories.
The original thought was that the enclosed space would provide the 'secure' space where the occupants felt safe from outside interventions and the space open to the sky would leave the occupant feeling exposed and overwhelmed. What happened instead was unpredicted. The people inside the secure space have expressed that they don't feel well as they are cut off from the world they are floating above and that the exposed space with its view of the surrounding water, earth, sky connects them back to nature in effect grounding them to the terrain below.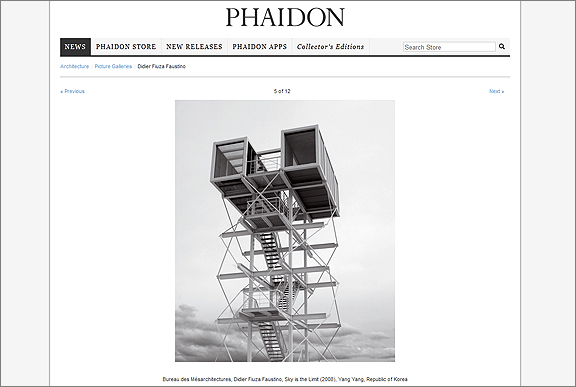 Sky is the Limit by Didier Faustino.
Didier expresses that "good architecture is when you produce possibilities for the unexpected" and that with the tower in Korea although one space looks "super dangerous" the other "super protective" the people occupying the space flipped the model. In a turn of events the dangerous space becomes the pleasurable place.
The client now uses that room to drink whiskey with his friends "looking towards lost Korea". They sip and slip away into longing for another time.
(G)HOST IN THE (S)HELL: feeling fenced in


(G)host in (S)hell by Didier Faustino.
Didier's body of work migrates around the world and in New York City he received a commission to create an installation in what was a storefront space that was about to be renovated into an exhibition space for art and architecture (Storefront for Art and Architecture). Again, drawing outside the line between private / intimate and public / collective space, as in the project Stairway to Heaven,(G)host in the (S)hell was meant to blur the boundary between the spaces we use that are enclosed and those that are exposed.
The façade of the building was opened up visually to the sidewalk by using chain link fences that jut out onto the street and allow transparency with regards to what is going on inside. The walls are ambiguous because they don't fully allow the outsider in nor do they fully keep the outsider out. The choice of material was to reflect urban America's own material choice of chain link fence to demarcate urban spaces that are to be blocked off from entry by those standing from the outside looking in.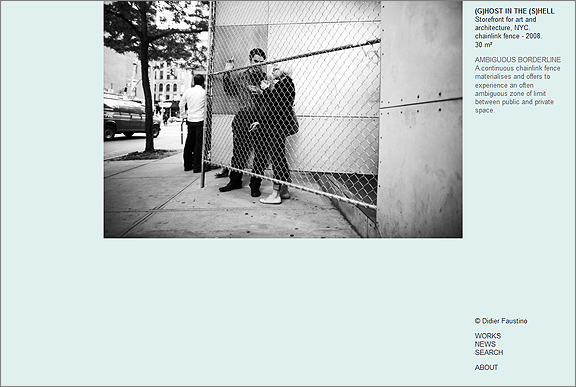 (G)host in (S)hell by Didier Faustino.
Crossing the country, Didier recycled the same project title and exploited the elemental medium of chain link fence once more for his installation at LAXART. He contorted and twisted the suspended fence across the gallery from the entrance of the room to the eventual exit creating a coarse border that visually bifurcated the room separating the onlookers in to two camps.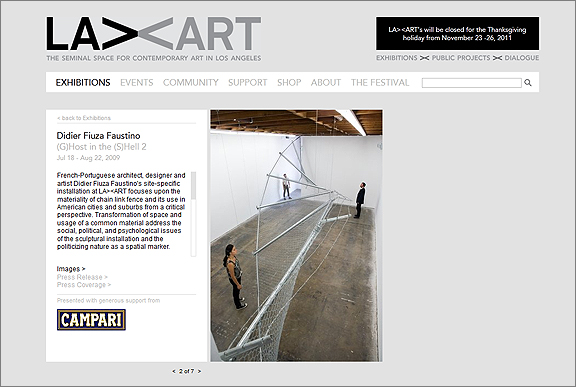 (G)host in (S)hell by Didier Faustino.

BODY IN TRANSIT: might not make it to the next stop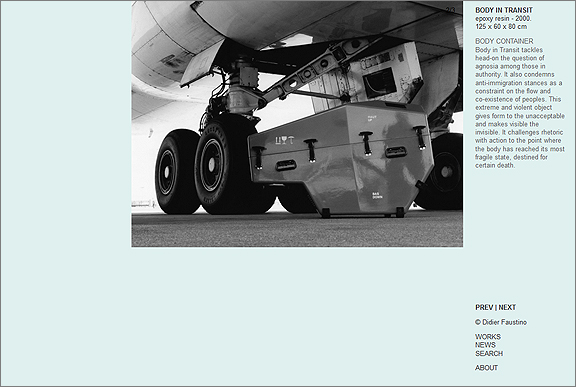 Body in Transit by Didier Faustino.
Borders and the polarized problems they create is a predominant theme in Didier's work. Ever the provocateur, whether he is presented in the role as an architect, artist or designer, his work often confronts the ethics of the body in a space it can or cannot inhabit.
Shown at the Venice Biennale 2000 the Body Capsule is a storage container to transport a human being on a flight. Confined inside the case the human being inside is in effect hidden.
"Body in Transit tackles head-on the question of agnosia among those in authority. It also condemns anti-immigration stances as a constraint on the flow and co-existence of peoples. This extreme and violent object gives form to the unacceptable and makes visible the invisible." (cited from www.didierfaustino.com)
Didier explains that his design of a "box to carry immigrants in a plane" was meant "to prove the absurdity" of how refugees / immigrants are politically and socially handled and in effect "exaggerate the situation" so as to challenge the ethics that motivate inhumane treatment of people seeking refuge.
The trigger for this work was hearing a news story of what can happen when border crossings go wrong – the death of an African boy stowing away in a plane found later frozen to death.
"[Body in Transit] challenges rhetoric with action to the point where the body has reached its most fragile state, destined for certain death." (cited from www.didierfaustino.com)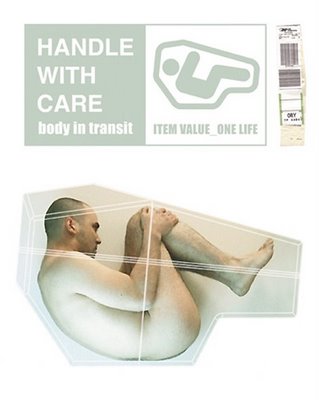 Body in Transit by Didier Faustino.
1SQMH (1 SQUARE METRE HOUSE): with no room to move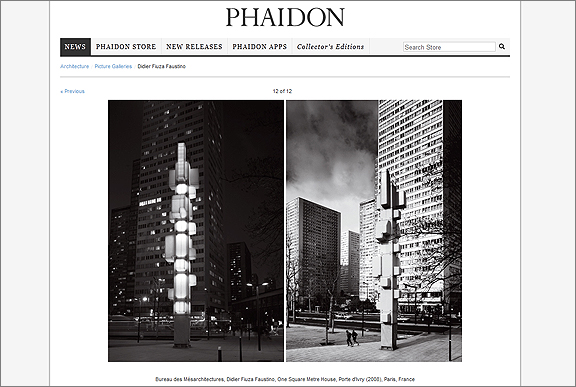 1SQMH (1 Square Metre House) by Didier Faustino.
Fragility. The body occupying a tenuous and fragile state casts a conceptual shadow over Didier's work. 1SQMH presses the limits on the space a body can occupy.
Since square footage in urban areas is at a premium 1SQMH is a confrontational work that questions how much tighter a body can be squeezed into a space before the mind tips into madness. Set in Porte d'Ivry, Paris 1SQMH is stunning as a work of sculpture; as a work of architecture 1SQMH is sadistic in its constraining proportions.
This exploration of "Bodies, Restrictions and Moves" doesn't only take a serious tone in Didier's work. On a lighter note, in many of his designs his humour is evident alongside his signature intelligence and striking aesthetics.

1SQMH (1 SQUARE METRE HOUSE) by Didier Faustino. Image from flickr (tofz4u)

HAND ARCHITECTURE


Hand Architecture by Didier Faustino.
"The megaphone is usually used to broadcast to a wide audience. Here it becomes a medium for the meeting between two individuals. With a silencer, the user of the megaphone can whisper an intimate message to one single person. It is the antithesis of a demonstration, a sort of collective intimacy involving only two persons, anywhere in the public space. The person captured by Hand Architecture becomes visually and auraly isolated from its surroundings, its only reference being the voice of its interlocutor. The megaphone handler can then transmit an anti futurism manifesto, about mis/mess architecture."  (cited from www.didierfaustino.com)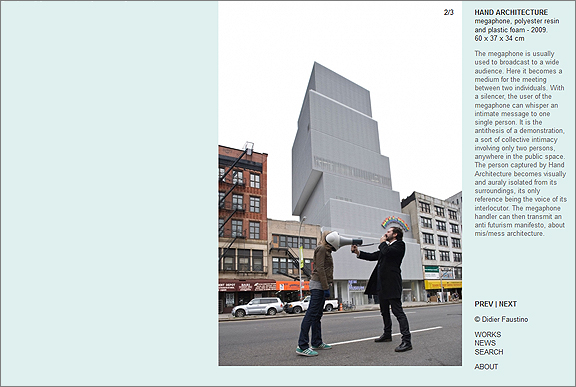 Hand Architecture by Didier Faustino.

DOPPELGANGER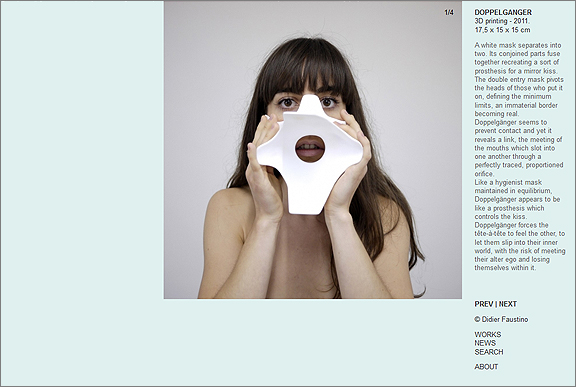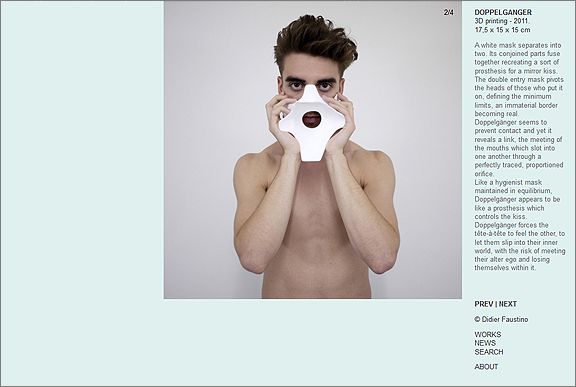 Doppelganger by Didier Faustino.
"A white mask separates into two. Its conjoined parts fuse together recreating a sort of prosthesis for a mirror kiss. The double entry mask pivots the heads of those who put it on, defining the minimum limits, an immaterial border becoming real.

Doppelgänger seems to prevent contact and yet it reveals a link, the meeting of the mouths which slot into one another through a perfectly traced, proportioned orifice.

Like a hygienist mask maintained in equilibrium, Doppelgänger appears to be like a prosthesis which controls the kiss.

Doppelgänger forces the tête-à-tête to feel the other, to let them slip into their inner world, with the risk of meeting their alter ego and losing themselves within it." (cited from www.didierfaustino.com)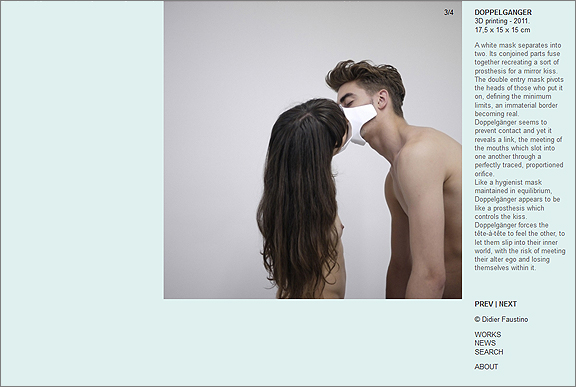 Doppelganger by Didier Faustino.

HERMAPHRODITE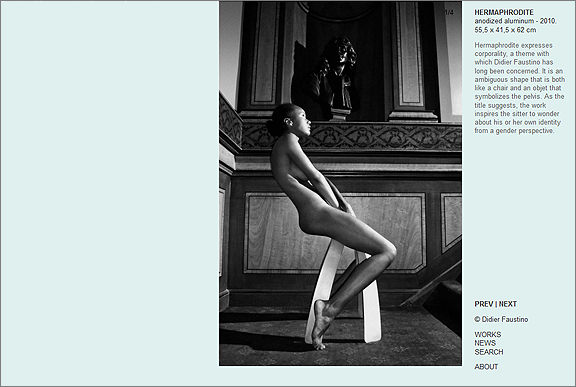 Hermaphrodite by Didier Faustino.
"Hermaphrodite expresses corporality, a theme with which Didier Faustino has long been concerned. It is an ambiguous shape that is both like a chair and an objet that symbolizes the pelvis. As the title suggests, the work inspires the sitter to wonder about his or her own identity from a gender perspective."  (cited from www.didierfaustino.com)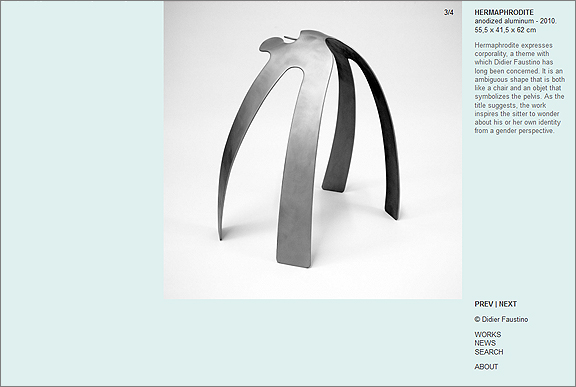 Hermaphrodite by Didier Faustino.

OPUS INCERTUM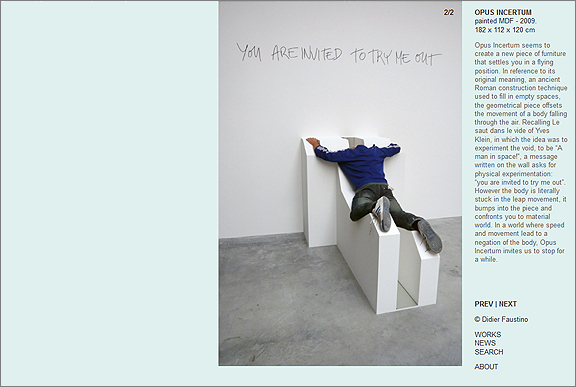 Opus Incertum by Didier Faustino.
"Opus Incertum seems to create a new piece of furniture that settles you in a flying position. In reference to its original meaning, an ancient Roman construction technique used to fill in empty spaces, the geometrical piece offsets the movement of a body falling through the air. Recalling Le saut dans le vide of Yves Klein, in which the idea was to experiment the void, to be "A man in space!", a message written on the wall asks for physical experimentation: "you are invited to try me out". However the body is literally stuck in the leap movement, it bumps into the piece and confronts you to material world. In a world where speed and movement lead to a negation of the body, Opus Incertum invites us to stop for a while."  (cited from www.didierfaustino.com)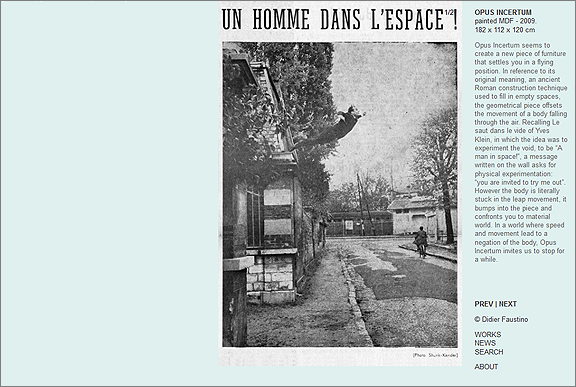 Opus Incertum by Didier Faustino.
With wit, sophistication and striking lines, this homage to Yves Klein's work of performance art Saut dans le vide / Leap into the Void exceptionally expresses Didier's thesis of exploring "Bodies, Restrictions and Moves" in this lecture. This piece, as well as the other work viewed, also demonstrates the conundrum Didier causes his critics to have. Is he an architect, designer or artist as his work often falls into the fuzzy gray area between the disciplines? In the 21st century where the overarching narrative is boundary breakdown I am confused as to why this even matters. I believe it is testament to his abilities that he can create a work of art that is informed by his architecture or a functional chair he has designed is striking enough to hold its own as sculpture.
The other problem his critics have is that his work – whether it be his architecture, design or visual art – contains at its core this aggressivity, both aesthetically and with the materials used. This is true and Didier agrees but goes on to challenge:
"Why should our environment be friendly? I go to the countryside, I find a rock [to sit on], there is no fence protecting me."
and in that moment, with lack of protection and a hard rock upon which to sit he is able to see, as well as be integrated with, whatever stunning vista surrounds him. Pretty desirable when you look at it this way. Didier challenges that this notion that our environments should be soft shelters from which to withdraw in order to feel safe "makes us into idiots!"
But Didier does not bear this inherent aggressive quality like a chip on his shoulder. He wears it like a heart on his sleeve. As he shared each of his pieces with us there was this energy of love, almost paternal, that animated his discussion – love of the process, location, and the end result; love of the tension and conflict raised.
"The history of architecture is extension of the power to control. To arrive in the 21st and still do things the same way? Why?"
I concur.
And while I do feel that Didier's firm Mésarchitecture is aptly titled I would change the definition to read "an unexpected but always desirable effect."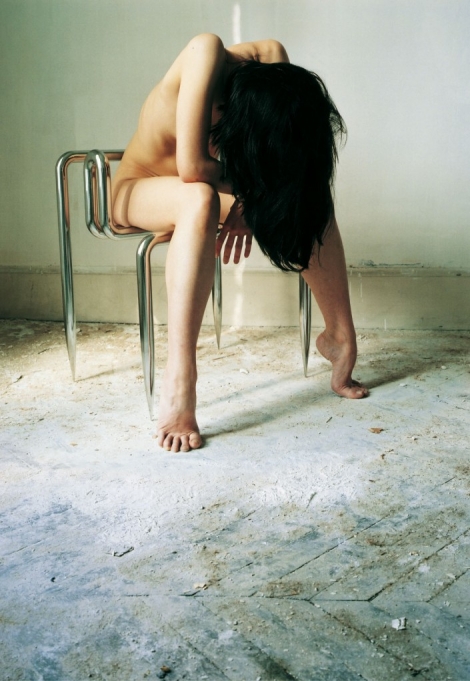 Love me Tender Chair by Didier Faustino.

INSPIRED & WANT MORE?
"New Forces in French Design Pt 1: Cédric Morisset"