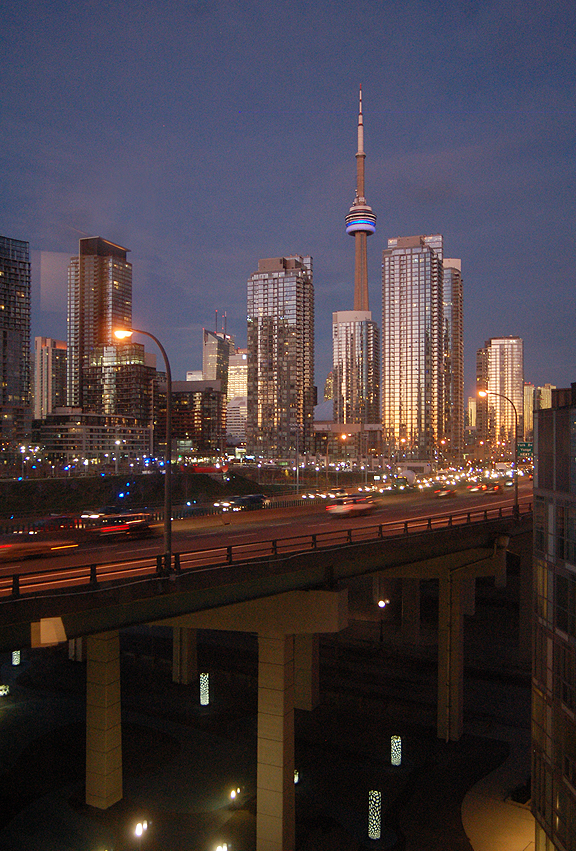 The CN Tower and Gardiner Expressway, Toronto. Photo by Leah Snyder.
Oddly enough when I snapped this view from my living room in Toronto I saw a tweet that my cousin in Johannesburg did exactly the same thing. Do shared genes = telepathy?
As I work away at my desk I have a great view of the CN Tower – unfortunately the Gardiner as well. On the bright side, when it gets bunged up on the expressway I can look out and pity the poor fools that do the daily commute. I'll keep my virtual and nomadic tendencies of setting up shop wherever I lay my head at night. Flexible, fluid and not stuck in traffic. (cue closing soundtrack to "The Littlest Hobo"!!)
FYI – Lights under the Gardiner Bridge by Canadian Designer Pierre Poussin. Find out more about "Mitosis Courtyard" and Pierre Poussin's work.

Johannesburg, South Africa. Image by Scott Smith.
"Sometimes I love it, sometimes it's just noisy but I could wake up to this every morning – and do. From my little bedroom balcony taken just after an afternoon cloud burst." Read & see more of Scott's work