"28 Days brings together the diverse work of Canadian artists with that of their international contemporaries in the United States and the United Kingdom to explore the staging of Black History Month"
28 Days is the vision of independent curators Pamela Edmonds and Sally Frater of Third Space Art Projects.
This past Saturday at U of T's Hart House TSAP brought together some of the talent involved in the show, including artists Robert A. Pruitt (US) and Sonia Boyce (UK) as well as Paul Goodwin (UK), curator for the Tate. Canadian artists Camille Turner, Dana Inkster, Denniston Ewan and Stephen Fakiyesi also participated.
The goal of the gathering was a panel discussion on the cluster of topics that surround the main exhibition call to "explore the staging of Black History Month." The event took things further by adding in the dimension of critical conversation as another layer to an important show.
As the dialogue dug deeper it became clear that scholarly language can be cumbersome and hard to wade through. It can get us stuck at a worn-out impasse leaving us to wonder if a shift has actually occurred. Words with their roots in academia (trans-cultural, creolization, hybridity, post-racial, etc.) may clink in the receiver's ear with little resonation and seem indefinable. Historically though, it is in the academies of higher education where radical theoretical language combined with applied practice in the disciplines of art, architecture, literature, etc. produces movements that filter out to the masses. The point was made that the real work of giving the final push to constricting paradigms is being done in the universities and colleges. The graduates exposed to what our educators are teaching will be the ones filling the future positions in the cultural institutions, taking the lead.
The panel did not bring the artists and audience to a resolution but it did illustrate that we are still in the exploration stage where there is room for experimentation that can be supported.
Although the one half of the show has now wrapped up at University of Toronto's Justina M. Barnicke Gallery, the other half will continue at Georgia Scherman Projects until Feb 29.
George Scherman Projects
133 Tecumseth Street
Toronto, ON
416-554-4112
www.georgiascherman.com
Tuesday – Friday, 10:00 am – 5:00 pm
Saturday, 11:00 am – 5:00 pm
or by appointment
Join Third Space Art Projects Facebook page.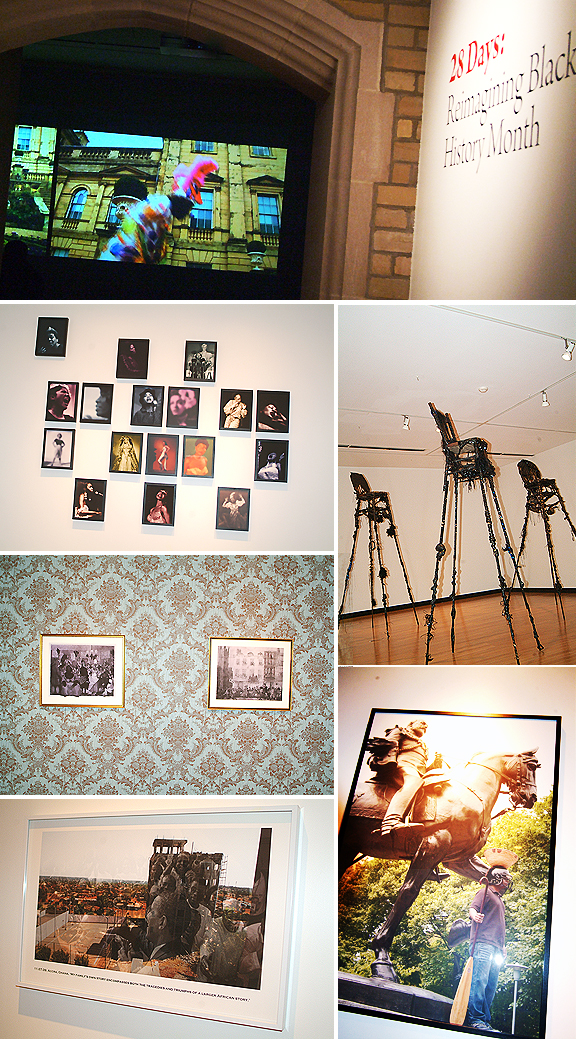 Artists clockwise top to bottom: Sonia Boyce, Wangechi Mutu, Denniston Ewan,
Roshini Kempadoo,  Godfried Donkor and Carrie Mae Weems.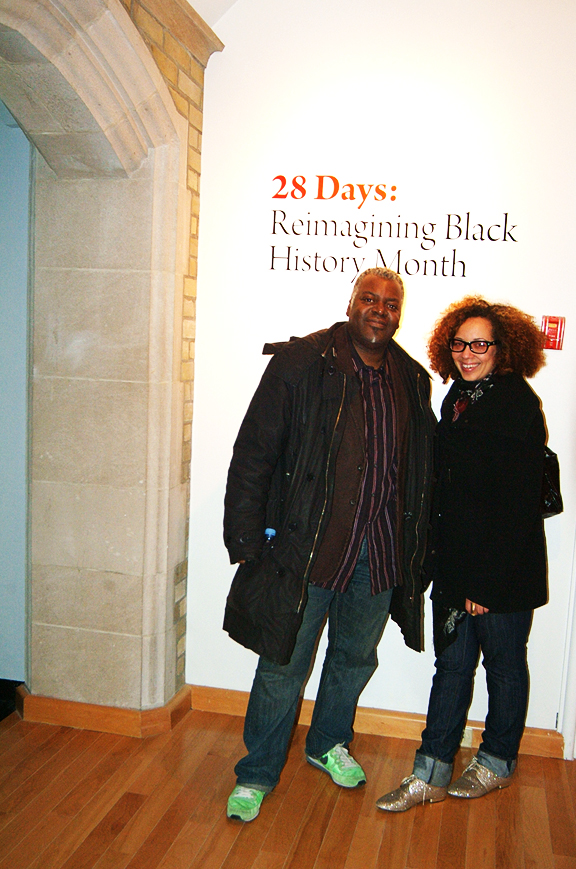 Curator Paul Goodwin (Goldsmiths / Tate) with "28 DAYS" curator Pamela Edmonds.