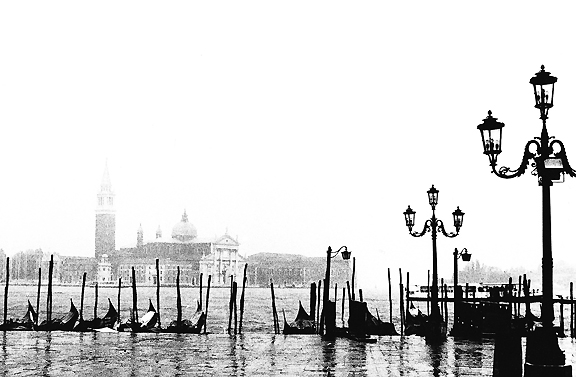 A rainy day view from San Marco's Square, Venice. Photo by Leah Snyder.
I was 19. It was a soggy day. In Venice the sky and the horizon blurred into one so that all the decadent architecture looked as though it was floating by; the water in the canals gently moving all the beautiful buildings out to sea and off to some exotic land, a gift for a foreign prince.
I wasn't even going to be in Venice a full 24 hours.  After Milan, en route to Brindisi, it was the stop in-between to switch trains on my way to the coast and a ship that would take me across the Adriatic to Greece.
But the short time that I had seemed to stretch out and expand and my mind recalls the time in Venice as though the adventure was longer.
The only way to orientate one's self was by intuition in this city of twist and turns and narrow passage ways. So with serendipity as my guide I set off.
At some point during the day I would come to Peggy Guggenheim's Venetian Palazzo, Venier dei Leoni. Infused with my high school art history , backpacking through Europe made the pages of my text books come to life but nothing prepared me for the magic of the moment upon first entering Peggy's enchanting place.
I stepped over the threshold and there greeting me, close enough to kiss, was Brâncuşi's Bird in Space.

Brâncuşi's Bird in Space part of the Guggenheim Collection. 
At the time I didn't know that several castings had been done of this piece so to my understanding in that moment I had just tripped upon the only version of my most beloved sculpture. This was the piece that had started my love affair with Modernism so for it to be there so close, so sensual, so within reach, I gasped and nearly fell over! And then when I started to scan the room and the rest of the place Peggy was no longer this fact in a history book. She was flesh and real and full of visionary ideals that manifested into influence and a collection of art that was off the charts. It was there, in that brief and beautiful moment, that I came to the realization that I wanted to be the Peggy Guggenheim of my generation.
My life didn't come with the same set of influential variables as Peggy's. Building my dream has been full of starts and stops that sometimes make it feel impossible to ever reach. But after a health crisis wiped me out financially and emotionally leaving me with nothing but my original dream I decided what do I have to lose? Why not start again at building the foundation!
Just before my life broke apart into humiliating and painful bits and pieces I had some solid therapy that prepared me for the wild ride the next four years of my life would be and kept me spiritually intact. The gift came in the form of Navjit Kandola. Her technique and wisdom were worth their weight in gold Venetian coins!
Now that the dust has (almost) settled I have picked up where I left off revisiting that 19 yr old full of possible dreams! And the amazing thing is Toronto has become my Venice. I have let intuition guide me and suddenly out from the corners, in unexpected places, the carnival along with its colourful cast of magicians and jesters have appeared. Some of them are mentioned in this blog, many more will be mentioned soon and as a collective of individuals they are the loveliest group of people I have met, not to mention talented, inspiring and working hard at manifesting their own big and possible dreams.
For more information on Navjit and her services visit her new website Tender Logic.
You can also follow her on Facebook and twitter @navjitkandola.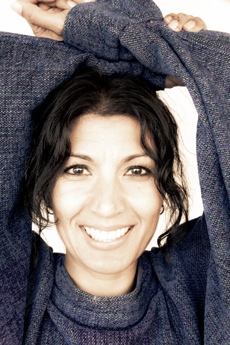 Navjit Kandola of Tender Logic.