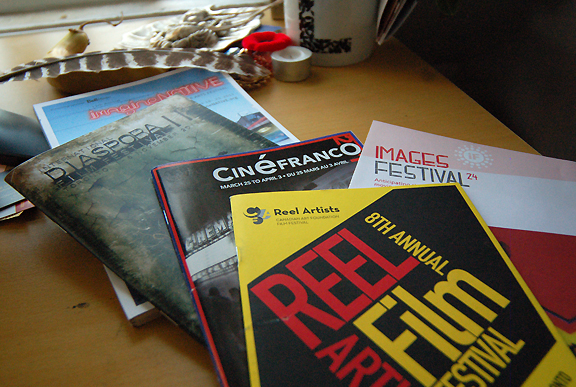 In 2011 I decided to give myself a self-directed course in film studies. It has been my luxury and my escape. Everyone knows about the Toronto International Film Festival (TIFF) but if Hollywood hipster hype and star gawking is not entirely your thing then you can get your film fix in so many other brilliant ways in this great city.
TIFF Bell Lightbox opened its doors in 2010. I was over the moon with their schedule to show the Essential 100 Films of all time. I got to see In the Mood for Love on the big screen again. Lush is an inadequate adjective when describing the cinematography of Christopher Doyle and the directing eye of Wong Kar-wai And there was the hunkering down for three hours (and a bit more) to finally see Seven Samurai on the big screen. Also, two decades after being in Morocco when it was filmed, I got a chance to revisit the landscapes of North Africa in Bertolucci's Sheltering Sky during TIFF's retrospective of Bertolucci's spectacular career.
When visiting TIFF I caught on to the fact that along with its regular programming it is one of the host cinemas for some smaller, yet fantastic, film fests.
There is the Reel Artists Film Festival in February (FYI: 2012 RAFF starts this Thursday!), then Images Festival in March. Cinéfranco segues from the end of March to the start of April and Hot Docs the last of April to the beginning of May.
Although Luminato is not a film festival per se, their 2011 programming included screenings at TIFF and David Pecaut Square, many of which I was lucky to catch in between running back and forth between plays, concerts and readings.
To correspond with last year's Luminato, the ROM's Bollywood Cinema Showcards Exhibit, and The International Indian Film Academy award ceremony in Toronto, for the months of July and August TIFF showcased the movies of Indian film legend Raj Kapoor. I missed most but when TIFF screened West African directorial talent Ousmane Sembene's films I caught a lot!
Autumn in Toronto ushers in the Toronto Palestinian Film Festival, followed by ImagineNATIVE, then Diaspora Dialogues. And to end off the crisp fall nights before the snow blows there is the Rendezvous with Madness fest and the Reel Asian International Film Festival.
In between all the festivals I attended there were some other fests I didn't manage to make it to but a plan is in place to attend them this year – Human Rights Watch Film Festival (FYI- Coming soon to TIFF) and the ReelWorld Film Festival.
Over the next week, in anticipation of the the REEL ARTISTS FILM FESTIVAL I am dedicating some posts to recapping some of the great work I witnessed and share a few youtube clips with you!
Enjoy.
L.

In The Mood For Love – The most stunning scene in cinema!

Trailor for Bernardo Bertolucci's Sheltering Sky

Ousmane Sembene's La Noire de / Black Girl