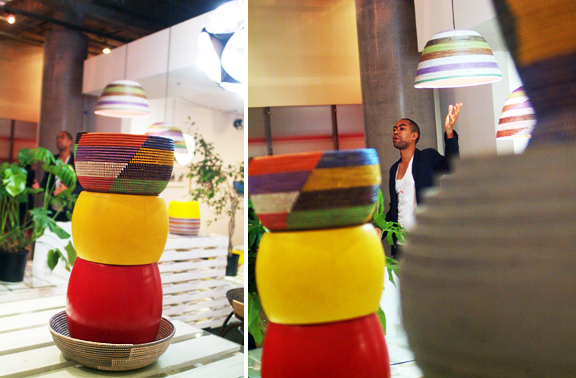 Exploring Process & Prototypes with Stephen Burks
On until April 1, Stephen Burks Man Made is an exhibit at Design Exchange put on in collaboration with Wedge Curatorial Projects. This exhibit is about exploring where cultural hybridity can take us in design. Sunday's event was a workshop about working the "readymade process of bricolage using diverse elements of inspiration… to participate in the artists' spontaneous process of creative engagement" *(sited Design Exchange)
The afternoon started off with a tour given by Stephen that filled in the inspirational and technical background as well as the social context of his current project that one could label as "design activism". The tour opened up more questions than it answered – which was the point. In the 21st century we are a global community intimately linked at many points of convergence and in this place we are positioned quite precariously. Micro moves can now impact the whole so how we set up models of design, production and distribution matter in macro ways. We need to start asking questions that are thoughtful, exquisitely articulated then followed through with careful exploration.
One such question was asked on Sunday regarding Stephen's work with artisans that has resulted in products for big name companies like Moroso and Cappellini as well his goal to elevate the work of artisans with his projects for the organization Aid to Artisans.
Is the work with artisans about elevating craft or brand?
We can continue on this line of questioning by asking ourselves what are our values attached to fair-trade, one-of-a-kind, or 'third-world' artisan? What are our values attached to mass production, exclusivity, and 'first-world' luxury brands?
Stephen's work exists in this in-between world that is a not-yet-fully-defined space. The ethical stakes are high and he is a trickster that dances between the two worlds. It is a tight-rope act of crossing lines of personal and professional principals that is charged because the cast includes many stakeholders and an audience that is more articulate when it comes to issues of social justice.
So Sunday's session, along with providing a chance to explore or own creativity, also presented a provocative space to question the trajectories design can leap from in the 21st century.
Thanks to Design Exchange, Wedge Curatorial and Stephen Burks of Ready Made Projects for the vision to hold a great event!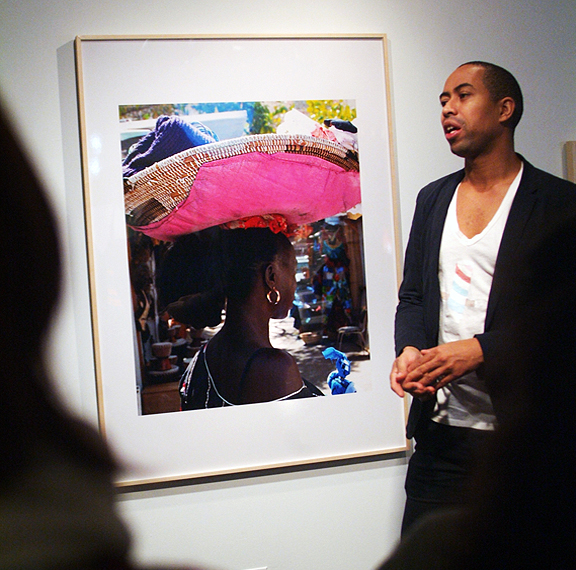 A photograph by Stephen.  Upon noticing how this woman adapted her basket with her own personal touch Stephen started to think about how design can be done by everyone.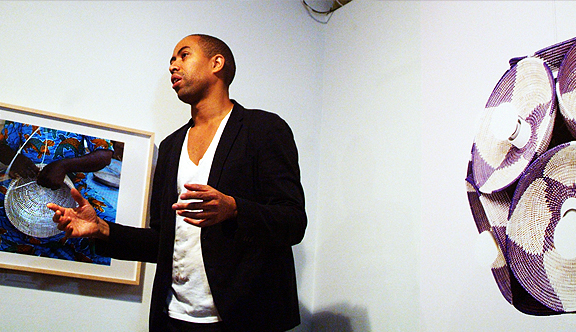 Photograph to Stephen's left of an artisan coiling and sewing the basket style that was then used for the lamp to his right.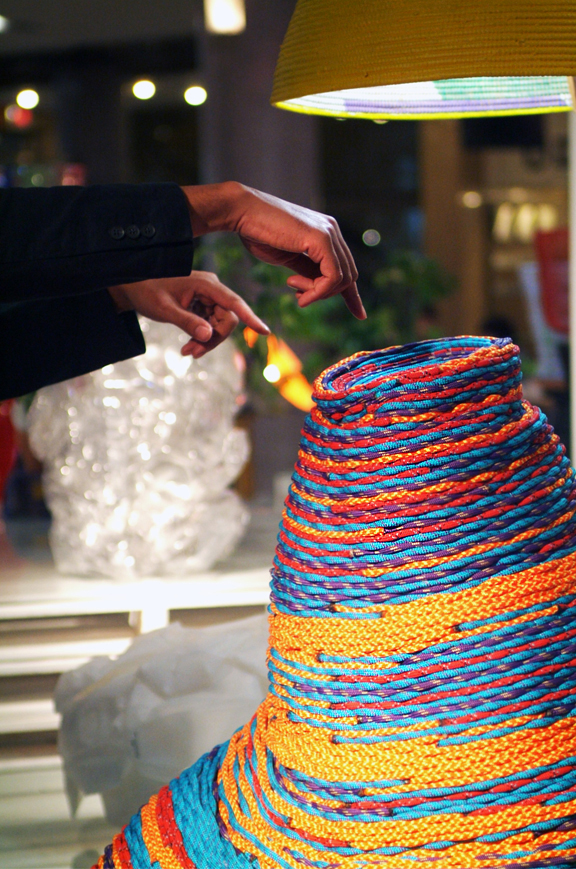 Same process of coiling and sewing utilized back at Stephen's studio in New York using synthetic cords instead of grass. Juicy effect! LOVE!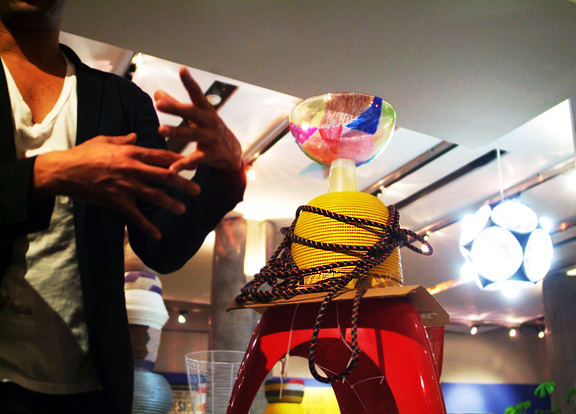 An example of bricolage (the assembling of a selection of found objects and materials) created at Stephen's studio using Sori Yanagi's Elephant Stool as a foundation structurally and for the final representational form as an elephant.
The 'finale' presentation of each of our bricolage masterpieces – fun headdresses, lights, totems, dolls, elephants, kitty cats, jewellery, purses and so much more!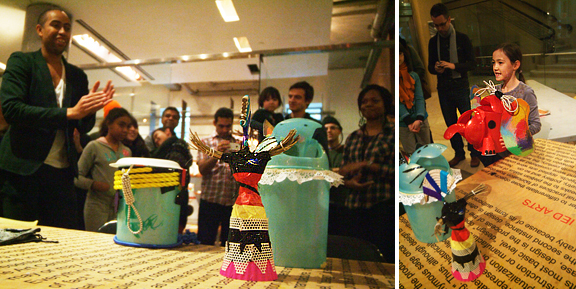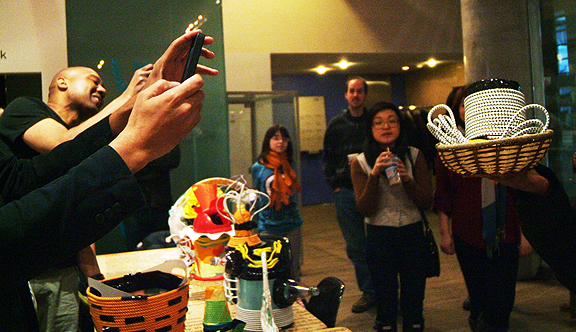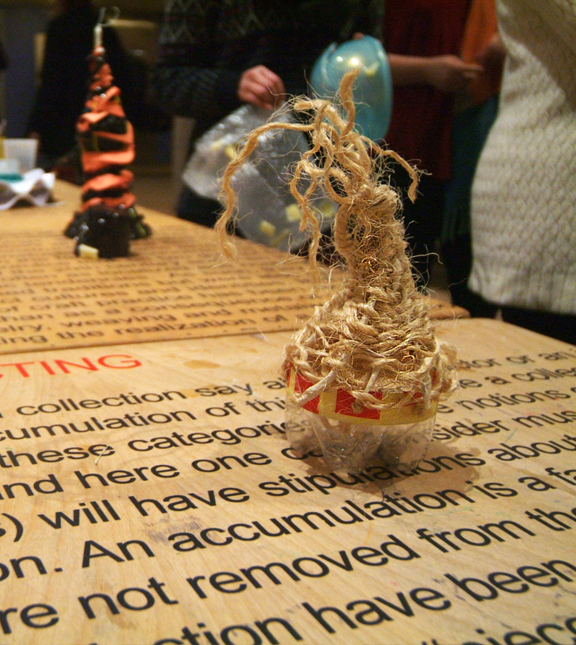 A beautiful example of simple weaving attached to the bottom of a plastic water bottle.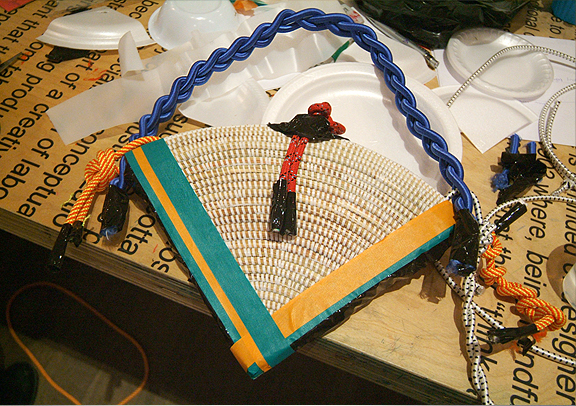 A purse made from cut-offs of baskets, masking tape, cords and lots of love by MOI! :)
All photographs above by Leah Snyder.