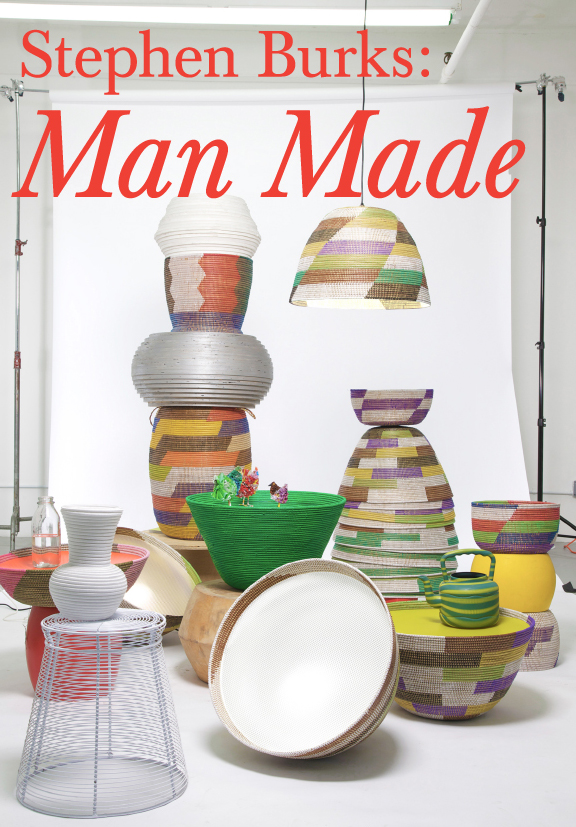 Stephen Burks "Man Made" exhibition at Design Exchange. Image via Design Exchange.
STEPHEN BURKS: MAN MADE TORONTO Jan23 – Apr 1
@ Design Exchange
FYI!!
In Dialogue: Stephen Burks and Company : Feb 10,  6:30pm – 8:30pm

Man Made At Work – An Ad Hoc Community Workshop: Feb 12, 1:00 pm – 4:00 pm

Walk-through &  film screening with Wedge Director Kenneth Montague: March 5, 6.30pm – 8.30pm

Uncovering a Kindred Spirit: Cultural Hybridity in Art & Design

I think my love of African design started at about 4 months old. My Aunt, just returning from Ghana, sat me down on a mini version of an Ashanti queen stool she had purchased for me as a welcome-to-the-world gift. When my tiny little tush touched wood the spirit took.
I loved seeing my aunt and uncle's colourful Kente cloth when I visited and their blonde wood stool, proportioned for an adult-sized Queen, rather than a pintsized princess. I remember the large stool my parents received and the leather poufs that floated around the house which sadly are long since gone. Before ending up in a pile marked "garage sale" I did manage to save the salad serving utensils with beaded handles brought back from my parents honeymoon in South Africa.
And then there were the stamps from Morocco that were given to me from another Aunt and Uncle that added to my expanding aesthetic sensibility.
So this thin but tenacious thread started to weave through my visual iconography of what I perceived as great design even if I yet had the words. My travels to Africa, on my own and to visit family, only confirmed this. Asilah. Lamu. Jo'burg. The Maasai Mara. All these places multiplied my love of African design whether the creative spirit blew in from the West, East, North or South.
In 1993 upon a plan to start a store specializing in African design and furniture, the love of my life (at the time) promised to bring me back the perfect Queen stool from a run to Cameroon. The stool never arrived. And as love stories sometimes go, the plan (along with the man) ended up in the pile marked "un-salvageable dreams". But I digress…
This other love in my life still continues to grow though and so Stephen Burks' tour at Design Exchange was a treat.
What a design synthesizer like Stephen does is bring to the world something myself as well as many others have known for a long time – Africa has been on point aesthetically for thousands of years.  The trade routes that criss-crossed the Sahara and sailed up the Swahili coast created hybridity in design, culture and cuisine many millions of moons ago. And it is this syncretic heritage that makes African design from all areas the ideal starting point from which to draw creative and technical design inspiration that makes complete sense in a 21st century space.
A little about Stephen:
He is a dot connector and a cultural fuser
He seems to be a ME to WE kind of guy working with non-profits Aid to Artisans and the Nature Conservancy
He believes in a pluralistic approach to design
He feels that Marcel Duchamp's readymades were the most important contribution to art in the 20th century
He is a whiz with Papier-mâché
And contrary to what was reported in the Italian press he was never a jazz musician or a baller. It was unexpected and reductionist comments such as these that made Stephen question how does identity and voice impact a designer's point of view.
What Stephen is can be described as accessible, charming, and enthusiastically in love with the process of industrial design. He is eager to explore the possibilities of a new language that we can use to describe the people, places and products that emerge when cultures overlap and integrate. And for this reason Stephen Burks is a great ambassador for a new inclusive way of thinking about design in the 21st century.
More about Stephen and his studio at Ready Made Projects.

Stephen Burks' papier-mâché stools for Cappellini. Image via Inhabitat. 

Stephen Burks' work for Missoni made from textile cut-offs. Image via Style Files.

Stephen Burks Swarovski lights. Image via Whitezine.