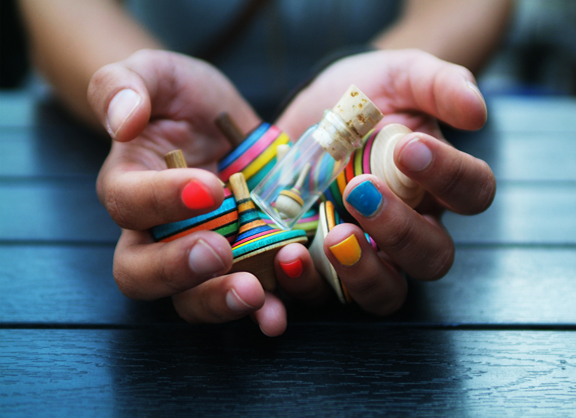 It was our Design with Dialogue holiday get together. On a damp December night this gorgeous, warm presence walked into our hosts' home. I loved this woman's style. I had to get to know her.  I discovered her name, Gelareh Saadatpajouh, tickles your tongue when you say it. So appropriate!
Gelareh was part of the team that organized Toronto Design Offsite 2012 (TODO) and over the course of Toronto Design Week I was happy to twirl a game of email tag with her.
She is yum and fun so her objects – spinning tops – made complete sense in light of her personality.
Why this object?
"At home, theses are always on my table. They are so colourful. I don't buy many but if I need to get something special for myself I will buy a new one. You have to sync yourself with the top otherwise it won't stand and I like this idea of 'syncing energy'. Their movement is random – different each time and with each person. Everyone interacts with them in their own way.
They are playful and no matter your age you will like them!"