Better late than never – Thinking Green at the Direct Energy Centre, Toronto.
This post was a little slow in coming (it's been a busy month!) but I didn't want to entirely miss the shout outs to the people I met and what I loved at the Green Living Show held two weeks ago.
This was my first time attending the show. I liked it! Lots of food samples of brands I already know and purchase, some interesting styles choices for eco-apparel but overall I was hoping for a few more exhibitors that fall under the home décor category as I think it is time to ditch Home Sense and Pier 1 in favour of more environmentally sound options that are built to last and well designed.
LES CREATIONS MAYUKORI
One such vendor was Jee Yung Caillaux and her company Les créations Mayukori. Jee has an interesting story as to how she came to be a designer of pillows. Korean by birth, she was adopted by French parents, raised in France and now calls Montréal home. When her little girl asked her to make a pillow she went back to her Korean roots. She was inspired by a pillow she brought back from a trip to Korea and its smaller, more rectangular design, a shape not seen in the West and decided to explore using this shape as her prototype. She also explored one of the traditional Asian ways of stuffing pillows – buckwheat hulls – a material, interestingly enough that is widely grown in Québec and used as flour in buckwheat crêpes .
Jee combines the French je ne sais quoi flair with traditional Korean craft to create a  beautiful 21st century product – a gorgeous, sustainable hybrid that travels light. Perfect for the global nomad.
Follow MayuKori on Facebook & Twitter @mayukori_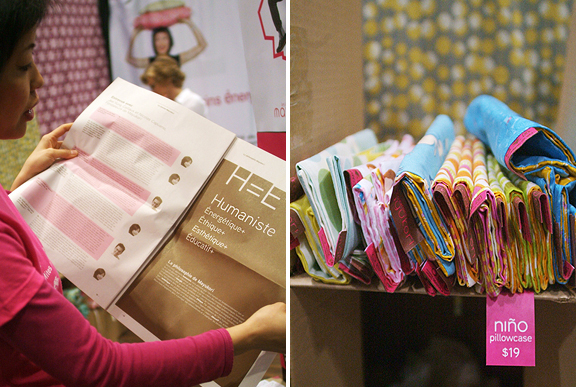 PRIYA MEANS LOVE

At Toronto's Freedom Collective booth I lingered a little too long at Priya Narasimhan's table. She was lovely to listen to, absolutely gorgeous and everything smelled so fantastic! I went back a second time and was considering a third trip for another sniff but thought it best not to come across as a stalking tire-kicker, even if I was being an eco-friendly one.
Priya of Priya means Love has created a ginger mint foot massage cream that is ECSTATIC to smell! Truly! Perfect for massaging your lover but also perfect for a solo act of self-indulgence.
You can find more about Priya on her Facebook page.
COCOON APOTHECARY
And  THE ultimate body crème?  Magic Bean by Cocoon Apothecary. A chocolate / coffee combo that makes you smell slightly spicy and good enough to eat. Two weeks and my bottle is almost gone! That is how much I love my Magic Bean. I continually find reasons to rub it in. And after just a few days of using it my stubborn winter eczema faded away. THANKS JESSICA!
Follow Cocoon on Facebook & Twitter @cocoonjessica
STRATUS WINES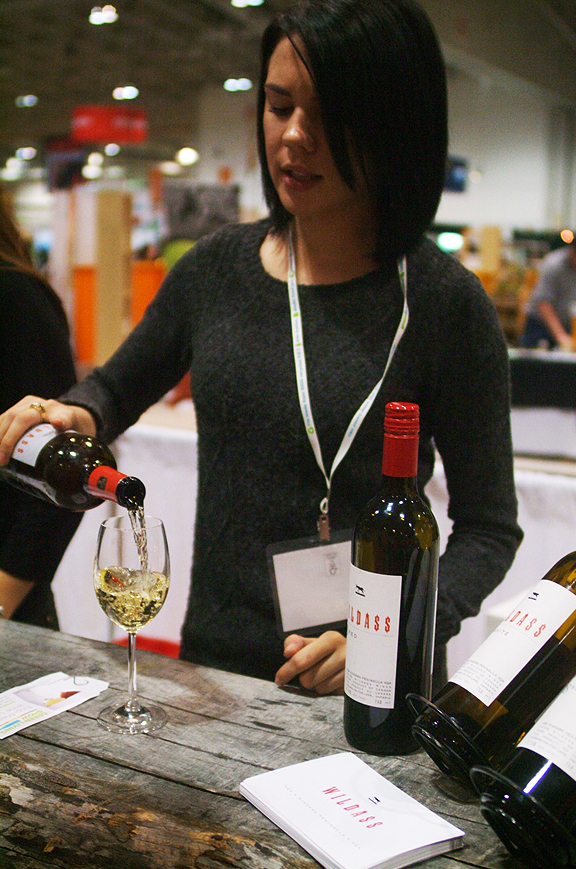 Stratus Wines implemented a thorough commitment to sustainability when they started up their winery in the Niagara Region. The first winery in the world to be LEED certified Stratus is taking a leadership role in their industry to demonstrate a new way to produce the extravagant products we love minus the irresponsibility usually associated with the production and consumption of luxury goods.
I went for the Stratus Red but have to say I loved the Wild Ass '08 branding as I know a great logo when I see one!
Follow Stratus Wines on on their Facebook Page & Twitter @Stratuswines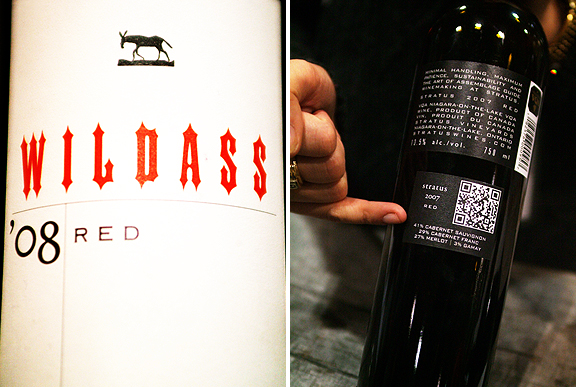 ECO | STEMS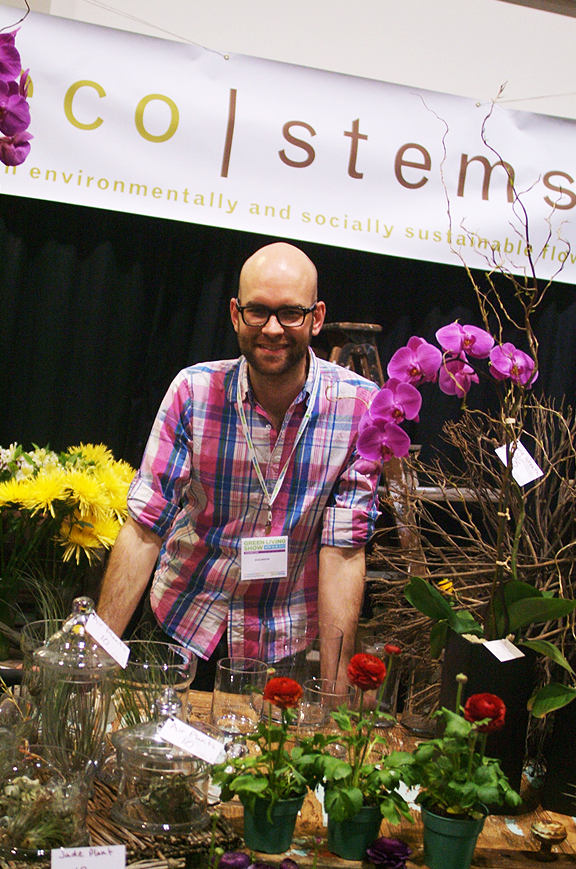 On the way out of the show I discovered a flower shop that doesn't make your skin crawl or itch with the idea of how much insecticides and pesticides are pumped into the environment courtesy the flower industry. Finally. Guilt free bouquets for your sweetheart? Yes you can at Eco | Stems!
Owner Joseph Delarge has really thought of everything when it comes to greening his business including promocards printed on 100% recycled paper and printed with water-based vegetable ink. Love it!
"An environmentally and socially sustainable flower shop" you can find Eco | Stems on the east end of Toronto on Queen @ Sherbourne.
Follow Eco | Stems on  their Facebook Page Twitter @ecostems