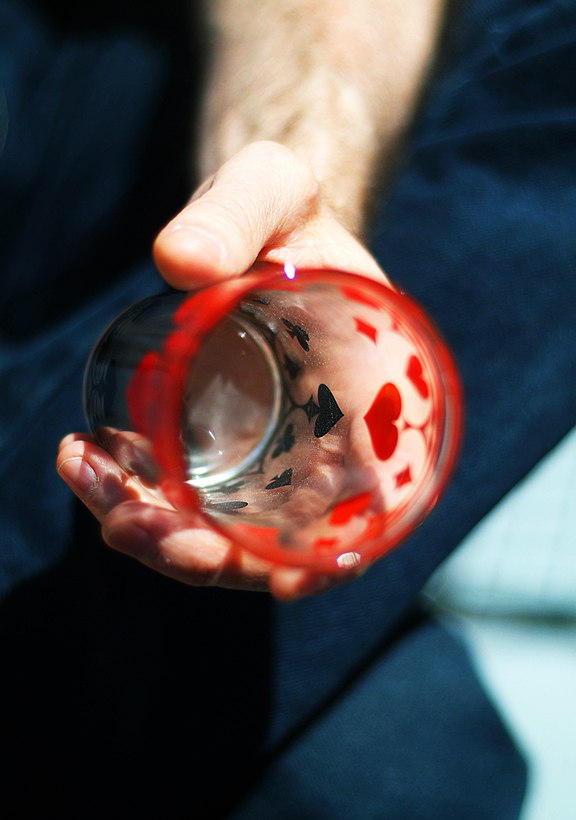 Sentimentality seeps through.
The work of artist Ian McMurrich was on my wishlist from the Toronto Outdoor Art Exhibit 2011 (TOAE). We got to talking about how if he ever needed models for his work I would sit for him. If you know me then you probably know how much the voyeuristic photographer in me hates taking on the role of exhibitionist in front of the camera. I agreed to Ian because he creates these phantom like portraits where faces are layered over other faces and my image would hover (or hide!) like an apparition behind, in the-middle-of or above someone else. I  would be suspended – somewhere in the in-between – a space I am quite at ease in!
Last Friday was my big day in front of the camera and it only seemed fitting that I do a switcheroo and get Ian in front of mine for my series of portraits.
Why this object?
"My brother and I collect this style of glasses. We have a running competition as to who can amass more. I think I got this one from my Grandmother and I believe she told me they were sold with peanut butter in them. When you were finished you would then have a glass! I think about how our collections can be an albatross and a burden but if I could collect just one thing it would be these glasses. I love the design and at one point I thought about incorporating the graphic element in my art.
Sentimentality runs counter to what I do in my work although I chose this piece because it connects me to my Grandmother and my brother. I aspire to move and work beyond sentimentality but none of us can get beyond it."
It is interesting that 'sentimental me,' when interviewing Ian on his work last July, wrote this:
"Ian's work would translate well as an interesting family portrait– a distinctive 'legacy' piece. When I mentioned this to Ian he shared an idea he had to do such a piece with his father, brother and brother's son. The stratum of encoded genes and common facial mannerisms of the three generations shadow one after another forming a link between a family's past and its present."
I guess Ian is right. There's no escaping it!
View Ian's work here.